Porto, Portugal; a tourism and holiday guide for 2023
Porto is a fascinating and vibrant city that has so much to offer for as holiday or city break destination.
The city boasts an extensive history, unique tourist attractions, delicious cuisines and buzzing nightlife. Porto has a delightful historic centre and is famed for its Port wine, but it is also a young and energetic city, with social nightlife, liberal attitudes and a flourishing artisan scene.
There is a lot to love about Porto, and the diversity of the city will appeal to a wide range of visitors. This article will provide an introduction to Porto, and help you get the most from your trip to this wonderful city.
What are the highlights of Porto?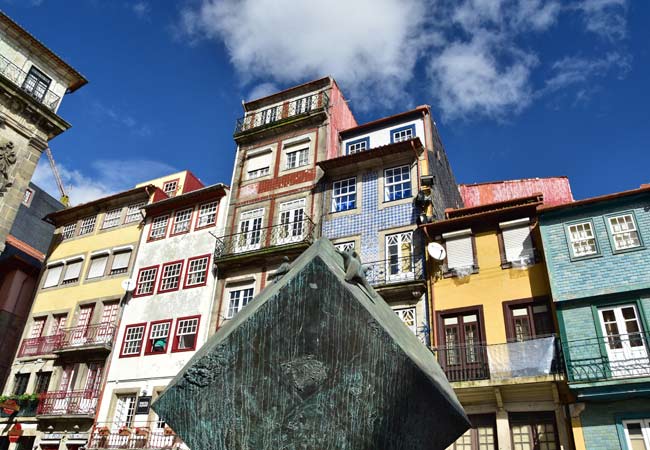 The Ribeira district - A characterful district of colourful houses, narrow cobbled streets, and an abundance of Portuguese charm.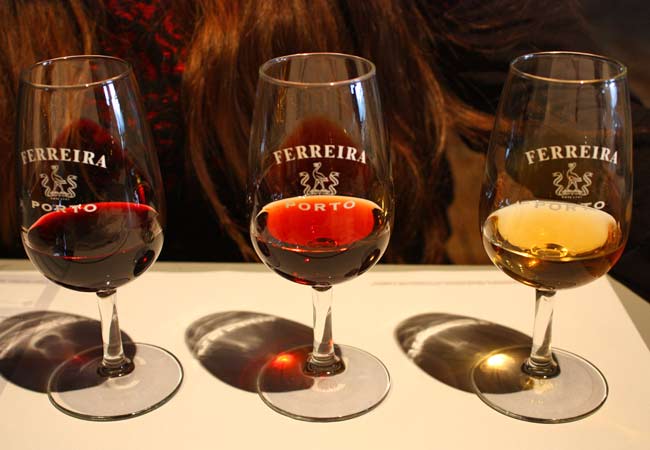 Port – The deliciously strong fortified wine, which has to be matured within Porto to be classified as Port. Each of the major Port-wine producers have huge cellars on the southern banks of the Douro River, that provide tours and tasting sessions.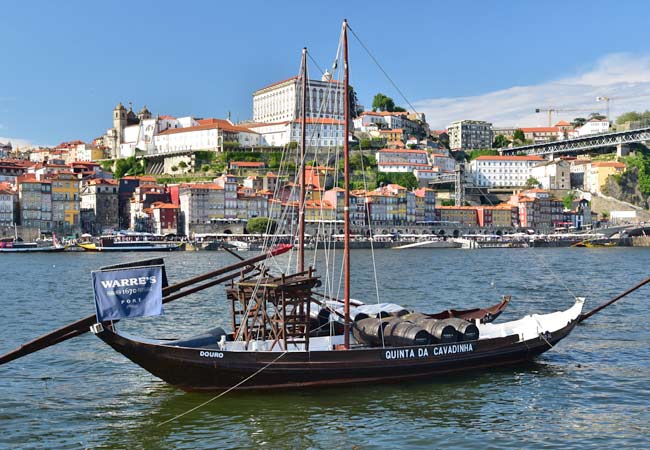 The Douro River - The mighty river that flows through the centre of the city and is crossed by six magnificent bridges. The river is best experienced by the boat tours that depart from the Ribeira district.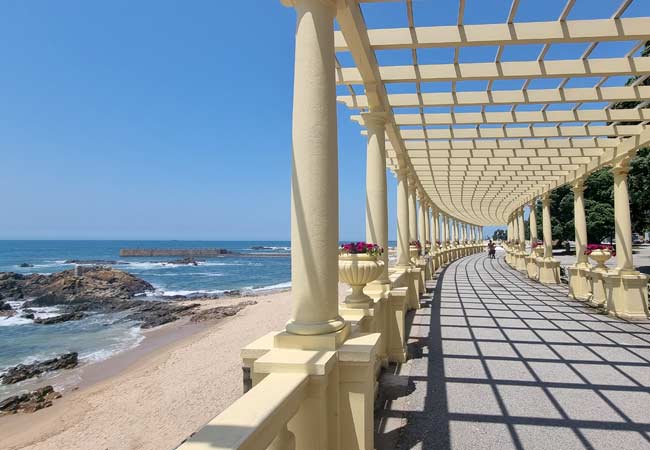 The Foz district – The peaceful district situated at the mouth of the Douro River, with its beaches, riverside walks and laidback ambience.
Related article: The 10 best sights and activities in Porto
How long to stay in Porto?
At a minimum, it takes two full days of sightseeing to really discover Porto.
The first day can be spent exploring the historic centre of Porto, which includes the Se, Baixa and Ribeira districts. Sights would include the Gothic Se cathedral, the beautiful, tiled exterior of the Igreja do Carmo and the wonderous Livraria Lello bookshop. The day could also include a boat cruise or a ride on one of the classic trams.
In the evening you could visit the lively restaurants and bars of the Ribeira district. For a more party-focused night, head to the bars and clubs close to the university and the Rua Galeria de Paris (affectionally known as Bar Street)
On the second day you could visit Vila Nova de Gaia, the location of the Port cellars. Here you could join a Port tasting tour, ride the cable car and embrace the social atmosphere of the area.
In the afternoon you could visit the pretty Foz district, with its many small beaches, trendy bars and relaxed ambience.
Related articles: Two days in Porto - A walking tour of central Porto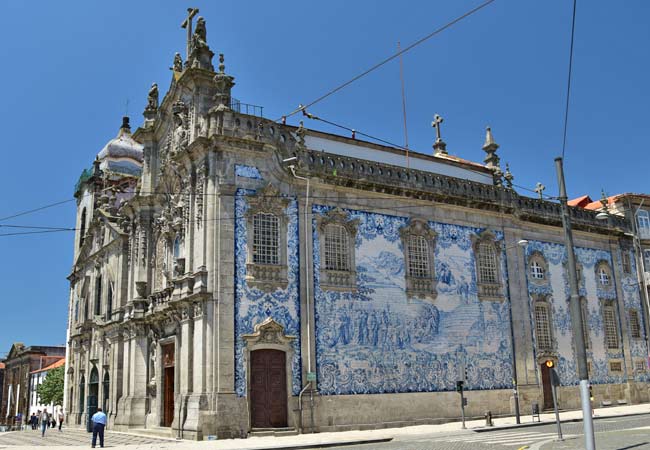 The magnificent Igreja do Carmo church, with its beautiful Azulejo tile murals
The interactive map below shows a suggested itinerary for two days in Porto. The green line shows the route for the first day and the yellow line marks the second day. (Note: Zoom out to see all of the points)
Day one: 1) São Bento train station 2) Torre dos Clérigos 3) Igreja do Carmo 4) Avenida dos Aliados plaza 5) Sé cathedral 6) Ribeira district 7) Igreja de São Francisco 8) Palácio da Bolsa 9) Rua das Flores (shopping street)
Day two: 10) Ponte Luís I bridge 11) Cálem (Port cellar) 12) Sandeman (Port cellar) 13) Ferreira (Port cellar) 14) Foz district
What about a longer stay in Porto?
Porto is an ideal base from which to explore the north of Portugal. Surrounding Porto is a region of historic towns, stunning scenery and glorious beaches, all of which could easily extend a holiday to a week or more.
A suggested itinerary for a week based in Porto could be:
• Day 1 – Porto (historic centre)
• Day 2 – Porto (Vila Nova de Gaia and the Foz district)
• Day 3 – Day trip to Guimarães • Day 4 – Day trip to Braga
• Day 5 – Day trip to the Douro Valley (by car, train or river cruise)
• Day 6 – Day trip to Aveiro and Costa Nova
• Day 7 – Day trip to Vila do Conde or Lamego
Insight: All of these day trips are possible using public transport, so there is no need for a car while on holiday in Porto.
Related articles: 1 week in Porto (with map) - Porto day trips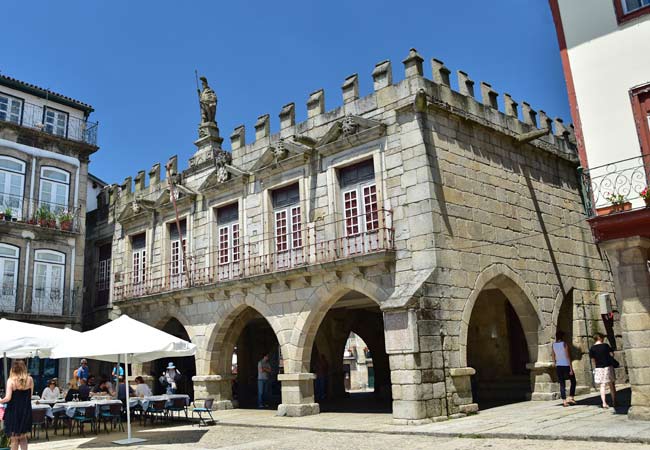 The historic centre of Guimarães
When to visit Porto?
The best time of year to visit Porto is in the late spring or early autumn. This is the ideal time for sightseeing and day trips, as the weather is good and there are fewer tourists around.
During the peak season of July and August, the weather is hot and dry, but the city will be packed with visitors. If you plan to visit during the peak season, always book flights and accommodation far in advance, as they will sell out.
Porto has surprisingly wet and chilly winters, and this wet weather continues until the end of April. As Porto is a major city, all tourist sights and activities remain open year-round.
Related article: When to visit Porto?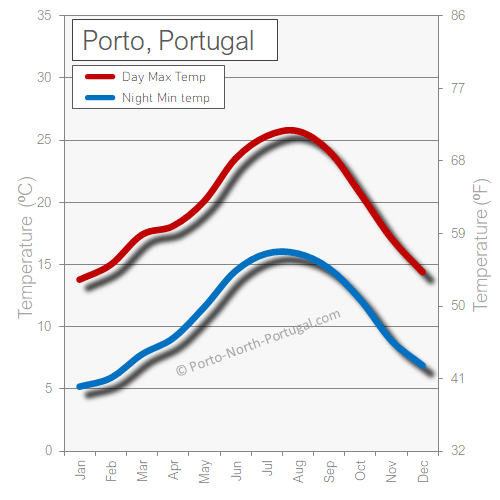 The average maximum day time temperature and night-time low for Porto
The average hours of sunshine per day and amount of rain per month
Where to stay in Porto?
On a map, Porto appears as a large and sprawling city, but the actual tourist area is relatively compact.
The majority of visitors stay on the northern side of the Douro River, within the Ribeira or Baixa districts, or within walking distance (around 400m) of them. If you are travelling to Porto for business, there are many international chain hotels along the Avenida da Boavista, and this may be a better area for you.
For a map and guide to the best areas of Porto to be based in please see this guide.
Is Porto an expensive destination?
Porto provides exceptional value when compared to other western European cities. Public transport is cheap and dining out can be inexpensive, so long as you stay away from the tourist-focused restaurants.
All tourist attractions and activities are reasonably priced, so unlike many other major tourist destinations you will not feel as though you are being constantly exploited or ripped off.
Overall, a city break to Porto will cost significantly less than a comparative holiday to other European cities.
Related articles: Cost of a trip to Porto
Porto for 2023
Porto is expecting a sell-out peak season for 2023, as visitors seek safe destinations within Europe.
Because of this expected popularity, it is advisable to purchase flights and accommodation as soon as possible, before prices increase and sell out.
Being a popular weekend city break destination, Friday evening and Sunday/Monday flights tend to sell out first.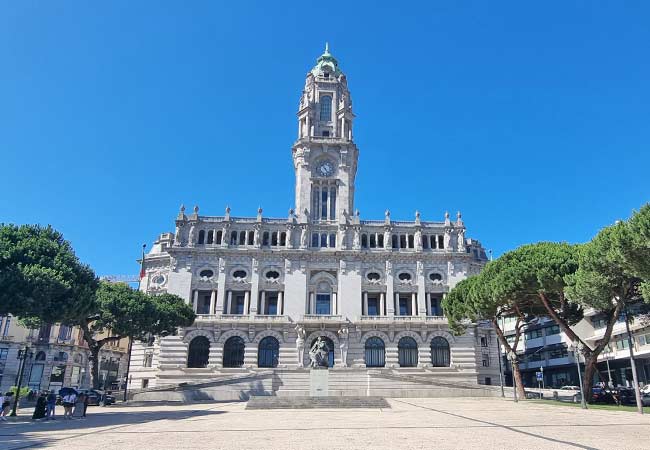 The magnificent Câmara Municipal do Porto in the Praça da Liberdade
Are there beaches close to Porto?
Porto is situated along the Costa Verde, a dramatic coastline of rocky headlands, sandy beaches and powerful waves that roll in from the Atlantic.
Dotted along this coastline are traditional fishing towns and pleasant beach resorts, including Espinho, Vila do Conde, Povoa de Varzim and Costa Nova.
Close to Porto are the small beaches of the Foz district, while the largest sandy beach is the Praia de Matosinhos.
Other good beaches can be found near the charming town of Vila do Conde or around the village of Miramar. The modern town of Povoa de Varzim boasts a huge beach and is popular with Portuguese tourists.
Related article: Porto beaches
Matosinhos is the best beach close to Porto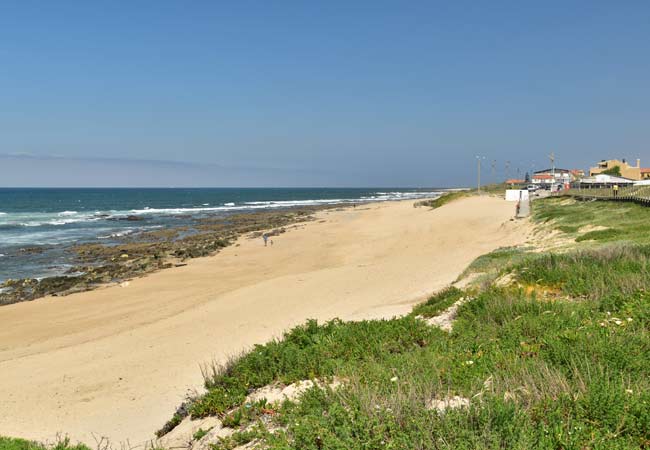 Or to escape the crowds, head to the deserted beaches near Praia de Miramar
Is Porto suitable for children and families?
Porto is a great destination for children if you are looking to take a city break with your family.
The Portuguese have a family-focused culture, and children will be welcomed in all restaurants, hotels and shops. There is a range of activities that will entertain children, including tram rides, boat rides and the cable car.
Porto or Lisbon?
Although both cities have their own unique character and charm, visitors new to Portugal should consider them very similar. Both cities have pretty historic centres, vibrant nightlife, are close to beaches, and offer many enjoyable day trips. As a visitor, you will not be disappointed with either one.
Related articles: Our Lisbon guide
What are the best day trips from Porto?
Porto lies at the centre of a region full of historic towns and characterful cities, all of which can be easily visited as a day trip from Porto.
The best day trips include Guimarães (the historic birthplace of Portugal), Braga (the religious centre of Portugal), Aveiro (a charming canal town) or a cruise along the Douro River to the heart of the vineyard region.
The suggested order for day trips that can be visited using public transport are:
1) Guimarães 2) Braga 3) Douro Valley tour 4) Aveiro 5) Vila do Conde
Related articles: Porto day trips - Braga – Guimarães – Aveiro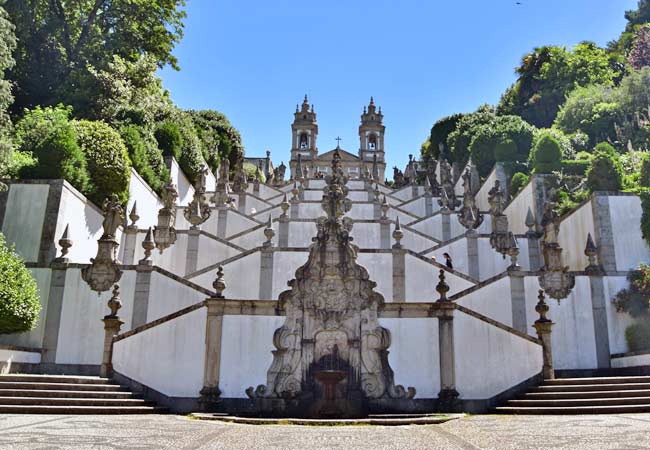 The Bom Jesus do Monte in Braga
Porto airport
Porto has a modern international airport that offers flights to many parts of Europe.
Situated 14km to the north of the city, the airport is connected to Porto by the metro network. The metro departs every 20 minutes (7am-11pm) and a single ticket costs €2.00. There are taxis at the airport (20 minutes to city centre, €25-€30) along with ride-hailing cars such as Uber or Bolt that are marginally cheaper.
Insight: Portugal has an excellent express train network and is only a 3-hour train ride from Porto to Lisbon.
Related articles: Porto airport to the city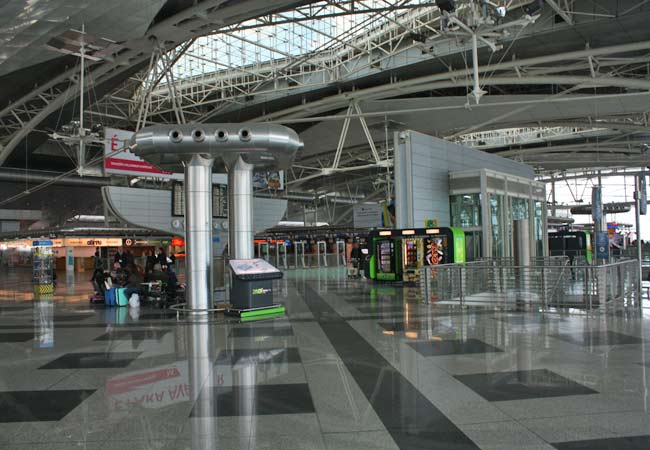 Is Porto Safe?
Porto is a very safe city and has low levels of crime when compared to cities of a similar size.
Obviously, you must use the same common sense as you would back home, as there can be opportunistic thieves and pickpockets around. Porto is a fantastic and safe destination for solo travellers, older visitors and families. The city is also perfectly safe for solo female travellers.
Will language be an issue?
English is fluently spoken by everyone who works within the tourist industry.
All transport hubs, including railway stations, metro and airports have English instructions and signposting. When dining out, all restaurants and cafes will have English menus and, if not, waiters are always happy to translate.
You will not have any language problems while in Porto.
Do I need a car for Porto?
A car is not needed for a trip to Porto, as there is excellent public transport and inexpensive taxis. Driving in central Porto can be very demanding, with erratic drivers, confusing road layouts and limited car parking.
All of the popular day trip destinations (such as Braga, Guimarães, Douro Valley Aveiro) have direct train services from Porto. However, a car can be useful if you wish to explore the far north or east of Portugal.
Porto for a backpacking trip
Porto is a popular backpacking and budget holiday destination, as there are many excellent hostels, inexpensive restaurants and lots of similarly-minded, worldly travellers. The nightlife of the city is lively and liberal and the city always has a bustling atmosphere. There is always a good backpacking community comprised of a wide range of nationalities.