Home page - When to visit? - Sights & activities - Day trips - Beaches - 2 days - 1 Week
Porto Portugal - A Holiday & Vacation Tourism Guide
Porto is a fascinating and vibrant city that is rapidly becoming one of Western Europe's most respected tourist destinations. The city boasts an extensive history, interesting tourist sights, buzzing nightlife, and outstanding tourist facilities. There is a lot to see and do in Porto, and the city will appeal to a wide range of different visitors.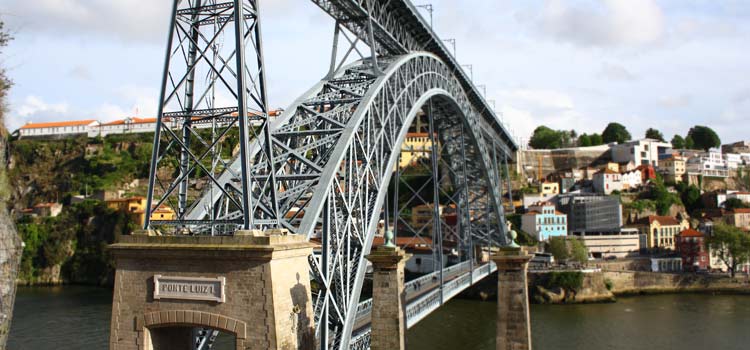 Porto is a historic and varied city, from the warren of narrow streets that make up the ancient Ribeira district through to the grand plazas of the Avenida dos Aliados. The region is famed for the production of Port, which is still stored and matured in the vast cellars that stretch along the banks of the Douro River. This guide will provide an introduction to Porto by answer some of the common holiday planning questions and provide links to further detailed tourist information.
Highlights and Main Attractions of Porto, Portugal
The Ribeira district - The oldest district of the city which is filled with ancient houses, narrow cobbled streets and numerous family owned restaurants, cafes and bars.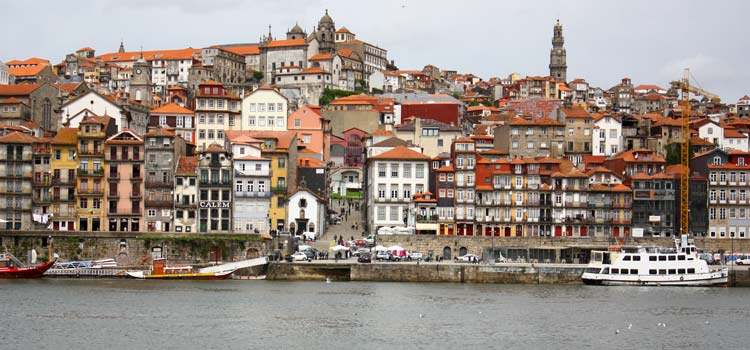 Port cellar and port tasting tours. These informative tours of the vast cellars provide an insight into the traditional brewing process and a chance to sample some of the finest Port vintages.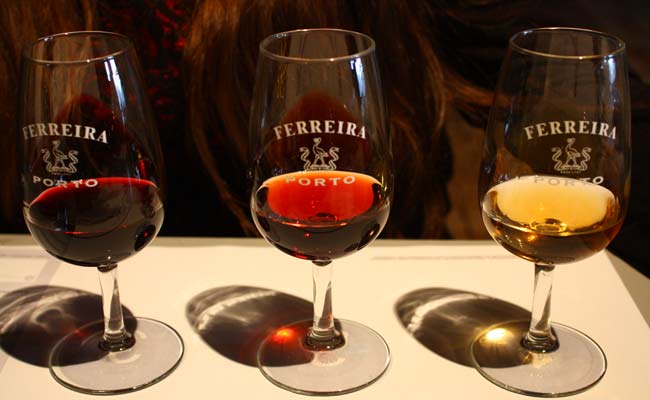 The great nightlife of Porto, catering for all ages and preferences; from late night restaurants serving fine food through to trendy clubs that are open until the sun rises.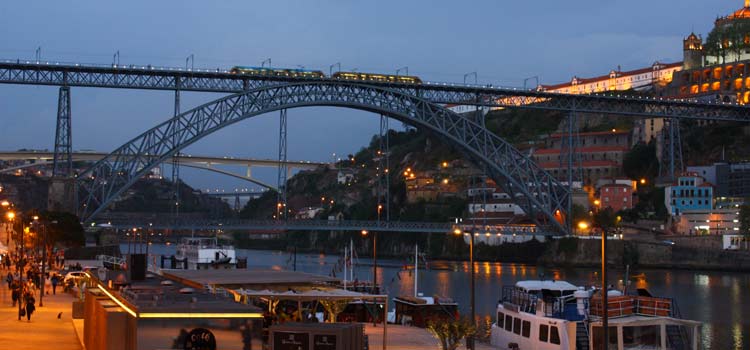 The Douro River, which is the scenic backdrop to Porto and is crossed by magnificent bridges and the route for relaxing boat tours.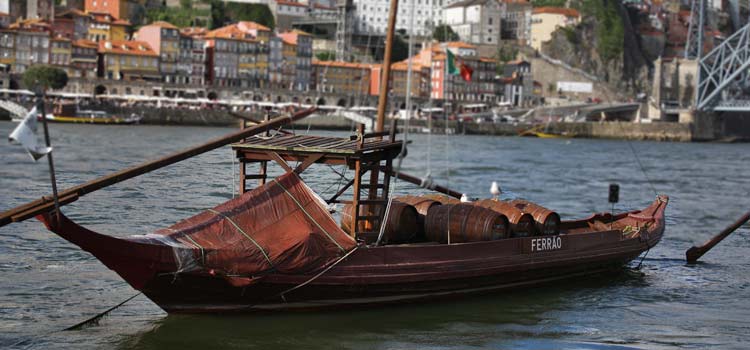 Historically, the port barrels were transported along the Douro Valley by the Rabelo boats
Why Visit Porto for a holiday?
Porto is ideally explored as a city break destination but is also a convenient base from which to explore northern Portugal. While Port wine remains Porto's most famous export, life here is anything but aged. The city is truly vibrant, and visitors can be assured of great nightlife, daring restaurants and a blossoming cultural scene.
The city has an extensive history and this is reflected by its World Heritage protected old town, baroque churches, characterful winding streets and abundance of tourist attractions. The city is very proud of its famed sweet alcoholic drink and Port is still matured and bottled in the vast cellars located along the riverside
Related article: The main sights and activities of Porto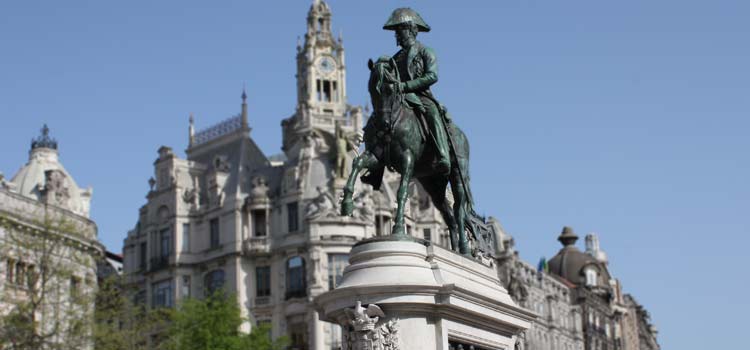 The statue of King Pedro IV in the Praca da Liberdade
How long to stay in Porto?
Typically, it takes two full days of sightseeing to see Porto properly. This provides one day for Ribeira district and the historic centre, and a second day for Vila Nova de Gaia, the Port wine cellars and a short boat cruise. Porto is an ideal destintion as a city break, with varried sights and activities to easily fill a weekend away.
One day is not enough time to visit Porto, so we suggest to always plan at least one night and two days. During the heat of the summer, sightseeing maybe more pleasurable at a slower pace and take longer.
Related article: Two days in Porto.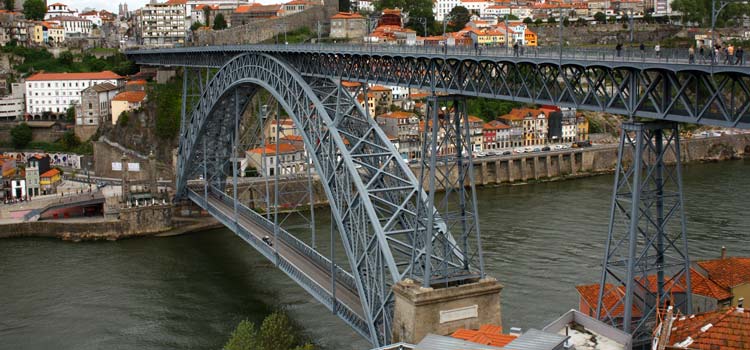 The magnificent Dom Luis I Bridge connects Porto and Vila Nova de Gaia
What about a longer stay in Porto?
Porto can be a wonderful holiday destination for a week, or even longer. After exploring the city for a couple of days there are many enjoyable day trips (detailed later in this article), which can be easily visited from Porto. Along with the day trips, there are the beautiful beaches of the Costa Verde coastline and the stunning scenery of the Douro Valley. As an extended holiday destination, Porto has the added advantage of an extensive selection of restaurants, bars and shops, many more than a conventional resort town.
Related articles: 1 week in Porto - Porto day trips
When to visit Porto?
The peak tourist season is between June and September, but the city is busy with tourism from April through to October. Tourists do visit during the winter months (November- February), but there is always the high possibility that the weather may ruin part of your trip. Porto has significantly more rain then Lisbon and the Algarve, and March and April can be very wet months. As Porto is a major city, all restaurants, bars and hotels remain open during the winter months.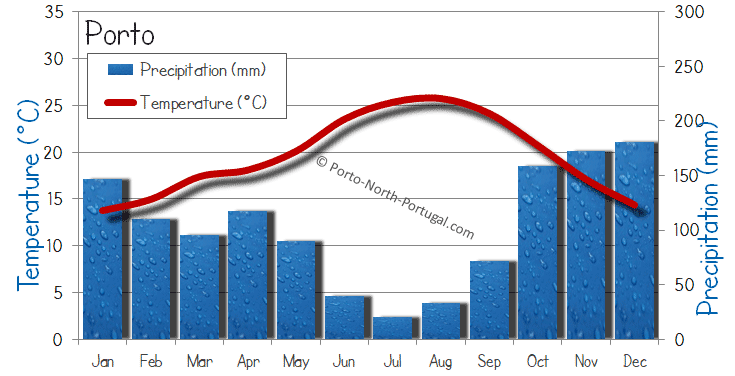 The average weather of Porto
Is Porto suitable for children and families?
Porto is a great destination for families seeking a city break within Europe. The Portuguese are very accommodating and supportive of families, and children will be welcomed in all restaurants and tourist attractions. There is a range of activities which will entertain children, including tram rides, boat rides and the cable car. The main issues for young children are the numerous steep hills to climb and summertime heat.
Day trips and excursion from Porto
Porto is at the centre of a region of ancient towns and beautiful natural scenery, all of which can be easily visited from Porto. Suggested day trips include Braga (religious centre of Portugal), Guimarães (historic town), Aveiro (a charming canal town) or a cruise along the Douro River to the heart of the vineyard growing region. Our suggested order for day trips if you're using public transport are:
1) Braga, 2) Guimarães, 3) Douro Valley (up to Régua), 4) Aveiro 5) Viana do Castelo, 6) Coimbra
With a rental car more of the region can be explored and multiple locations could be combined in a single day. Our suggested order for day trips with a rental car are:
1) Braga, 2) Douro Valley (up to Pinhão) 3) Guimarães, 4) Ponte de Lima and Ponte da Barca, 5) Viana do Castelo and Barcelos 6) Aveiro and Costa Nova 7) Upper Minho (Monção, Valença and Cerveira).
Related articles: Porto day trips - Porto's beaches
Porto's beaches
Porto is situated along the Costa Verde, a dramatic coastline of rocky headlands, vast sandy beaches and powerful seas. Dotted along this coastline are traditional fishing towns and likeable beach resorts, including Espinho, Vila do Conde, Povoa de Varzim and Costa Nova.
The fishing port of Matosinhos offers the largest beach close to Porto, and is only a short metro ride from the city centre. If you're looking for pristine beaches and a more natural setting, head south to the coastline between Espinho and Francelos, which is served by the Porto-Aveiro railway. Our favourite location for a beach day trip is the charming town of Vila do Conde, again served by the metro.
Related article: The beaches of Porto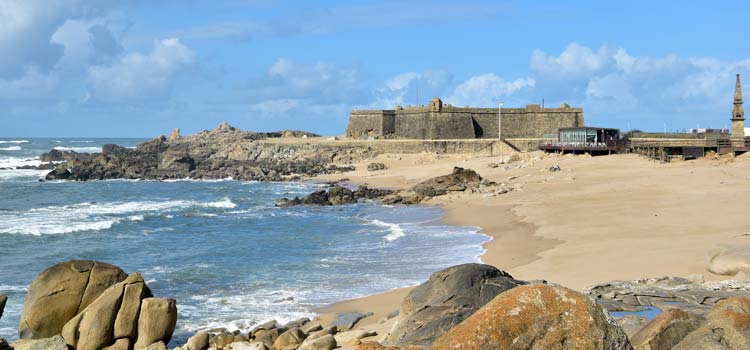 The Praia da Senhora da Guia beach, Vila do Conde
Porto for a backpacking trip
Porto is a popular backpacking or budget holiday destination, as there are many excellent hostels, inexpensive restaurants and lots of similar worldly travellers. The nightlife of the city is lively and liberal, and the city is always bustling.
Porto or Lisbon?
Even though both cities have their own unique character and charm, visitors new to Portugal should consider them very similar. Lisbon is larger, with an active artisan and technological scene, but both cities have pretty historic centres, lively nightlife, are close to beaches, and have many enjoyable day trips. As a visitor, you will not be disappointed with either one.
Related articles: Our Lisbon Guide – Porto to Lisbon 1-week suggested routes
Getting to Porto
Porto and the north of Portugal are served by Porto airport, which is 14km to the north of the city. Porto airport is a major international airport and there are direct flights covering the whole of Europe. Porto is a popular destination with the low-cost airlines and bargain flights can be found, which makes Porto great as a last minute or city break destination.
Related articles: Porto airport.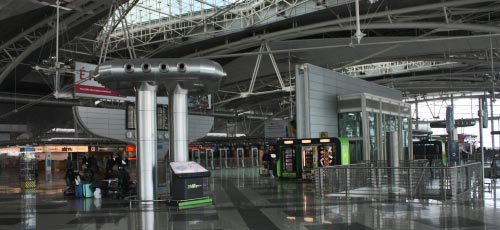 Porto Airport is modern, well organised and easy to fly from
Travel from the airport to the city is very easy as it is connected to the metro network. There are departures every 20-30 minutes and the Line E (violet) metro line is direct to the city centre. A single fare costs €1.85, and the metro fare is charged to the re-usable Andante card, which costs €0.60 for the initial purchase. A taxi fare from the airport to the city centre will be €20-30.
Is Porto and expensive destination?
Porto is a great value destination; food and accommodation costs a fraction of the price of many other popular city break destinations. Hotels are generally cheaper than most other European cities but to secure the best prices accommodation should be booked well in advance. Entrance fees to all of the major tourist attractions are reasonably priced and food is good value. Overall, Porto provides a good value holiday destination but accommodation and flights should always be booked well in-advance.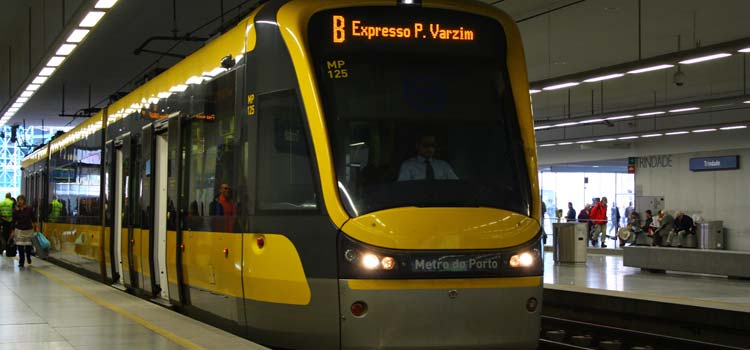 Porto metro is the best way to travel from the airport
Will Language be an issue?
English is also widely spoken by those who work within the tourist industry. Tourists with only English language skills will not experience any language barriers. All transport hubs, including railway stations, metro and airports also have full English translations and signposting. When dining out, most restaurants and cafes in Porto have English menus and, if not, waiters are always happy to translate.
Porto's Setting
Porto is Portugal's second largest city after Lisbon. The city is set on the northern bank of the Douro River, which gives rise to the dramatically undulated landscape and makes for spectacular vistas. Whilst the city itself is located inland from the Atlantic, there are also glorious beaches just a short train ride away.