Home page - When to visit? - Sights & activities - Day trips - Beaches - 2 days - 1 Week
A tourism guide to Aveiro Portugal
Aveiro is a charming city that is famed for its canals, Nouveau architecture and colourful Moliceiros boats. The city has experienced both an illustrious and devastating past, inflicted with unimaginable hardship and flooded by immense wealth. Today, Aveiro embraces its history and deep-rooted heritage, to create a fascinating destination for tourists.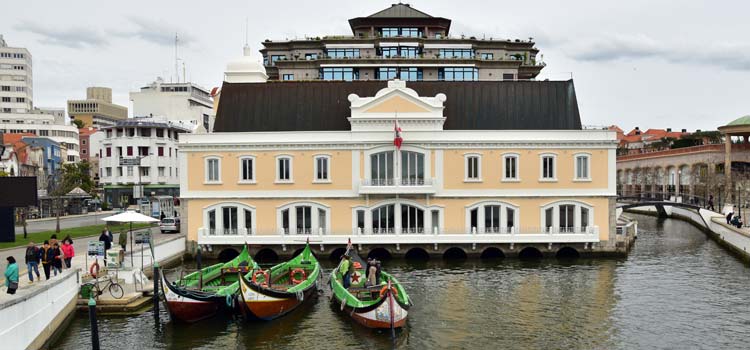 The canals of Aveiro
Aveiro is often boasted by tourist literature as being the Venice of Portugal, and this is partly true, having three canals and brightly painting boats that ply the waterways. More accurately Aveiro should be described as an authentic and characterful Portuguese city; there's flamboyant Art Nouveau architecture, a quaint fishermen's district and grand religious buildings.
Aveiro is often visited as a day trip from Porto, as it is easy to travel to and offers a range of unique sights and activities. For visitors who wish to spend longer in Aveiro, there is an outstanding selection of restaurants, a vibrant nightlife and the beautiful beaches of Costa Nova are only a short bus ride away. There is a lot to love about Aveiro, and it certainly should be visited during any longer stay within the Porto region. This guide will provide an introduction to Aveiro.
Highlights of Aveiro
Is Aveiro the Venice of Portugal?
Referring to Aveiro as the Venice of Portugal does a disservice to the city. Yes, there are canals and the traditional boats provide tours to visitors, but stating Aveiro as Venice, sets visitors expectations too high, and misses the real allure of the city. Instead of regarding Aveiro as Venice, it should be more considered an unhurried, traditional Portuguese city, which has canals and colourful boats (but not gondolas!).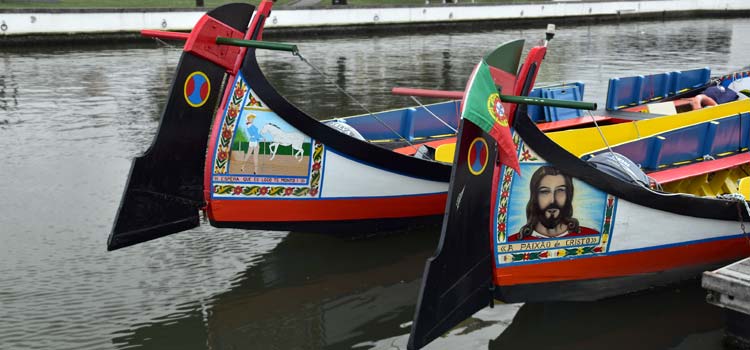 The colourful Moliceiros boats were once fishing boats
Aveiro as a Day Trip
Aveiro is popular day trip from Porto or Coimbra, (Lisbon is much too far away). There are typically two routes for a day trip: either a more relaxed one, which just visits the historic centre and the canals, and a busier day trip which also includes the beach resort of Costa Nova. Aveiro is ideal for tourists who are reliant on public transport, as the city is the final stop on the Porto urban railway, meaning that there are regular departures and inexpensive fares.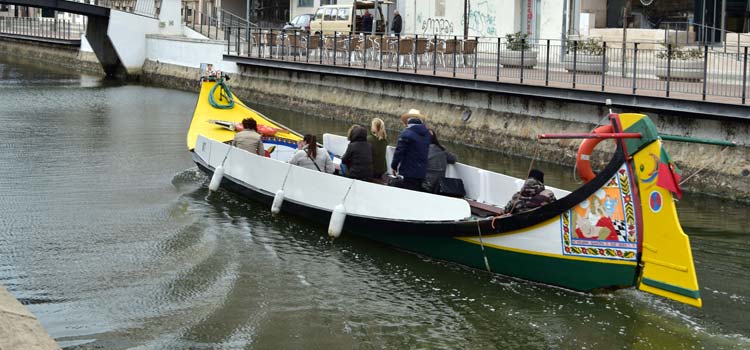 A ride on the canal boat
For a day trip, it takes around 2-3 hours to leisurely explore the historic centre of Aveiro. This sightseeing would include the Se Cathedral, Rossio Park, the fish market, the fishing district and the sights along the canals. To this, an 1-hour canal boat ride of the lagoons and waterways could be added, and with a stop for lunch, the perfect relaxed day trip could be had.
The busier day trip would include all of the above and also visit the delightful beach resort of Costa Nova. Costa Nova is the much-photographed town, comprising of rows of striped houses, which on one side overlooks the lagoons and to the other a vast and pristine beach. Costa Nova is a truly unique Portuguese town, and is highly recommended. There is a regular bus service from Aveiro to Costa Nova and can be visited without the need of a rental car.
What about an organised tour and Coimbra?
A popular choice for organised tours is to combine Aveiro with Coimbra; this should only be considered for visitors who are really limited for time. Coimbra and Aveiro each need a day's sightseeing, and both can be easily visited independently as there is excellent public transport (train) connections from Porto.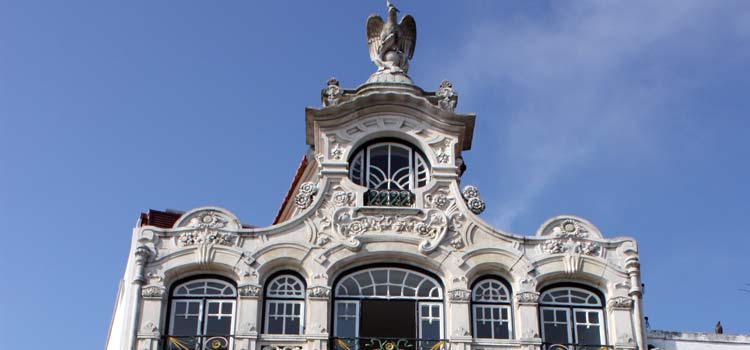 Nouveau architecture, Aveiro
The main advantage of an organised tour is the knowledge of an experienced guide. Generally the standard of tours in Portugal has significantly increased, which now tend to focus on worldly and clued up tourists. When selecting a day tour always ensure that it is a small group tour and not some soulless coach tour. We have for many years worked with GetYourGuide.com, who are an independent tour booking website, and a selection of their best tours include:
Aveiro as part of a tour of Portugal
For visitors who are touring Portugal, Aveiro is the logical destination between Porto and Coimbra, and the city is worthy to be included in your itinerary. A stay of two nights would allow for a full day of sightseeing, and three nights would provide a day to experience Costa Nova. From Aveiro there are excellent onward train connections to Coimbra (regional train, 1 hour, €5.35 single) or Porto (urban train, 1 hour, €3.50 single).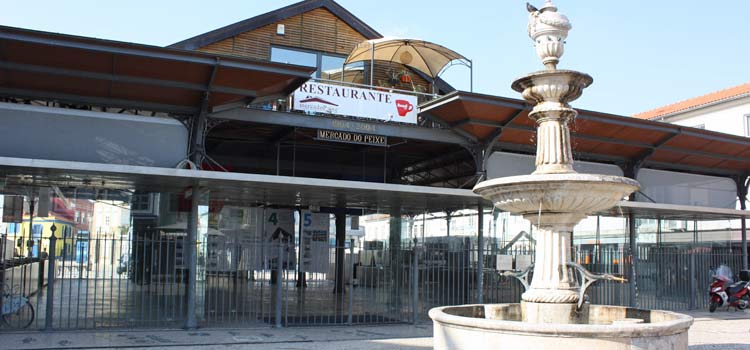 Praça do Peixe, Aveiro
Aveiro for children
Apart from a boat ride on the Moliceiros, there isn't that much which will appeal to children. A concern is that large parts of the canals (even around Rossio park) to not have any fences on the edge of the waterways; toddlers and young children, have to be supervised at all times.
Costa Nova is a popular with Portuguese families and would be a good choice for a beach resort during the summer season. Portugal as a whole is very welcoming of children of all ages and is a relatively easy and hassle free holiday destination.
So, what is the tortuous history of Aveiro?
Aveiro's fortunes have always had a close connection to the ocean's and that of the waterways which surround it, encompassing periods of great wealth and such severe devastation that the city was almost wiped out.
The Romans were the first to identify the potential of Aveiro as a harbour, considering the city as the best-sheltered harbour on the western side of the Iberian Peninsula. Up until the mid-16th century, Aveiro was an important harbour and prosperous city, with a major fishing fleet and significant sea trade.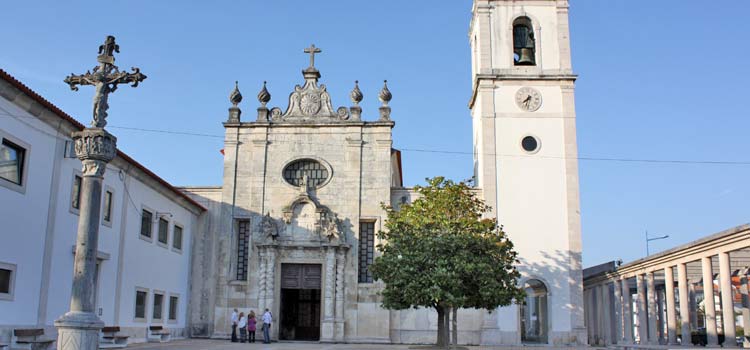 This all changed in 1575 after an incredible powerful winter storm dredged up the seabed, forming a sandbank along the mouth of the harbour and blocking the port to create the Ria de Aveiro lagoons. Along with losing all of the trade routes, the stagnant lagoon breed diseases which ravaged the population (This went from 30,000 to less than 5,000 20 years later).
The resilient city did eventually recover, and by the early 19th century it was an industrial centre for kelp farming and salt production. The kelp, which was a basis of an early type of fertiliser, was harvested from the Ria de Aveiro lagoons and transported by the Moliceiros boats. The high-quality Aveiro salt was used by the Portuguese fishing fleet, who fished the cod banks off Newfoundland, to preserve the caught fish and make the much beloved Bacallao (salted and dried cod).
At the turn of the last century the emigrants who had deserted Portugal to find riches in Brazil, returned and recreated the extravagant Art Nouveau architecture in the houses they built along the canals. Today Aveiro is a major university city and the region is the manufacturing heartland of Portugal, but fortunately, this has not encroached into central Aveiro.
Ovos Moles de Aveiro…. Yummy!
No trip to Aveiro is complete without trying the local delicacy, Ovos Moles de Aveiro. They are a small and delicate confectionery, of sweetened egg yokes that are encased in a thin candy waiver, and styled either as a barrel or fish, and are delicious! The direct translation of Ovos Moles de Aveiro is "soft eggs of Aveiro", and this name describes the little cake accurately.
As with many of Portugal's traditional cakes, which originated from the convents and monasteries, the Ovos Moles first were first produced in the Mosteiro de Jesus de Aveiro. The nuns used the egg whites to starch their habits (which must have smelt awful!), so there was an abundance of egg yokes, and these were used to make delicious cakes.
With the expulsion of all religious orders in the 19th century, the culinary expertise was transferred to the local bakeries. Later, Aveiro became a major stop along the Lisbon-Porto railway, where women in tradtional dress would sell the cakes on board the train, and the taste for Ovos Moles spread across the whole of Portugal.
Does Aveiro have good beaches?
The city of Aveiro is situated on the saltwater lagoon of the Rio de Aveiro and is not directly located on the Atlantic Ocean coastline. This means that it is a 7 km journey via car or public transport to the beautiful beaches of Costa Nova or Barra. These beaches are part of the 5 km long stretch of golden sands for which this region is famed for. Due to the distance, Aveiro should not be considered as a resort town but a charming Portuguese town. For a guide to the beaches please click here.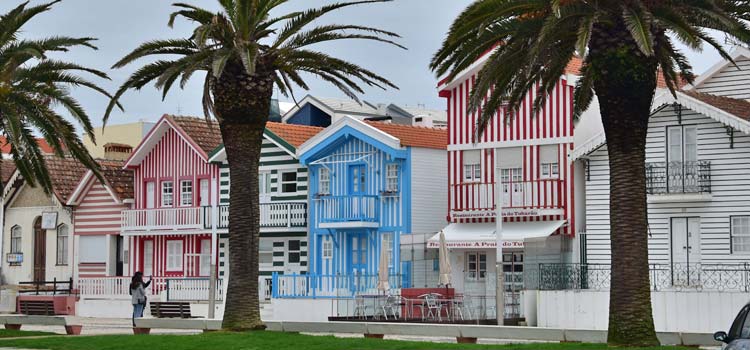 The beach houses of Costa Nova