Home page - When to visit? - Sights & activities - Day trips - Beaches - 2 days - 1 Week
Porto Day Trips and Excursions
Porto is a wonderful destination for a city break, but it can also be a great location from which to explore the northern region of Portugal. Surrounding Porto are bustling cities, historic towns and picturesque villages, all of which can be easily reached via the extensive public transport. These enjoyable day trips can greatly extend a stay within Porto and create a memorable holiday. This guide will provide an overview and introduction to the best day trips from Porto.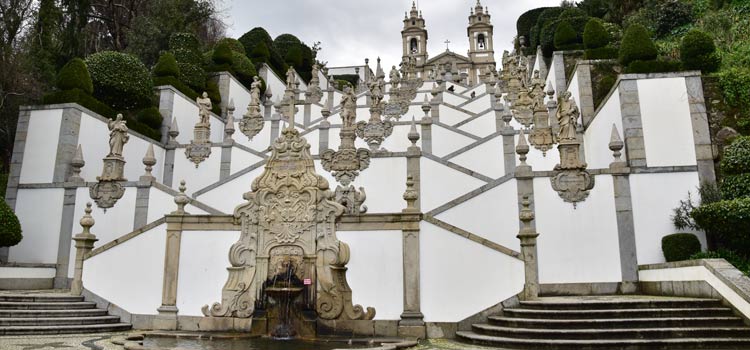 The Bom Jesus church (Braga) is one of the finest attractions in northern Portugal
Quick details for Porto's day trips and excursions
Our suggested order for day trips from Porto
With so many options and choices, it can be a little overwhelming to identify the best day trips and compile a sensible order. The following is our suggested plan, and is what we have used to show the region to friends and family:
1) Braga, 2) Guimarães, 3) Pone de Lima, 4) Douro Valley (up to Régua), 5) Viana do Castelo, 6) Coimbra, 7) Aveiro
All of the day trips can be reached using public transport (train or bus). Typically, before the day trips, we suggest two days to explore Porto fully.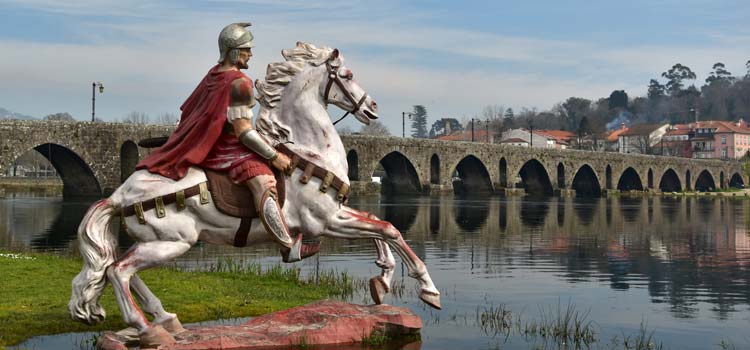 Pone de Lima is an extremely charming town that extends along the banks of the Lima river
Our suggestion for tourists with a rental car
A rental car provides more flexibility and allows more to be seen. Our suggested ideas and order for these day trips are:
1) Braga, 2) Douro Valley (up to Pinhão) 3) Guimarães, 4) Pone de Lima and Ponte da Barca, 5) Viana do Castelo and Barcelos 6) Aveiro and Costa Nova 7) Upper Minho (Monção, Valença and Cerveira) 8) Lamego and Vila Real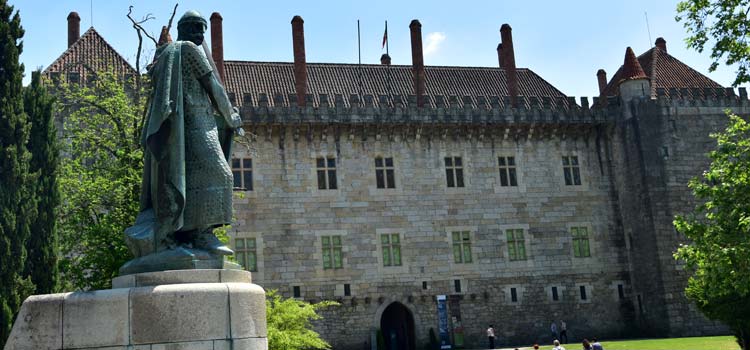 Guimarães is historic and considered as the birth place of Portugal
Is it worth joining an organised tour?
Organised tours are ideal for visitors who are limited for time, as they often combine multiple destinations in one day. The other advantage is that they provide a knowledgeable guide and eliminate the hassle of public transport. These types of tours tend to whiz through each destination, and often only visiting the highlights of the town or region. If you have time and want to fully discover a destination we recommend visiting independently.
Generally, the standard of tours in Portugal has greatly improved, and now cater for more worldly and clued-up tourists. Before selecting a tour always check reviews (which are relevant and recent), and a small group tour will always be preferential to a large coach tour. Over the last few years we have worked with Getyourguide.com, and some of their best tours from Porto include:
Related articles day trip articles
The following our are guides for a day trip to the relevant destination, and each article includes a suggested 1-day walking tour:
Braga day trip
Guimarães day trip
Pone de Lima day trip
Viana do Castelo day trip
Valença day trip
Vila do Conde guide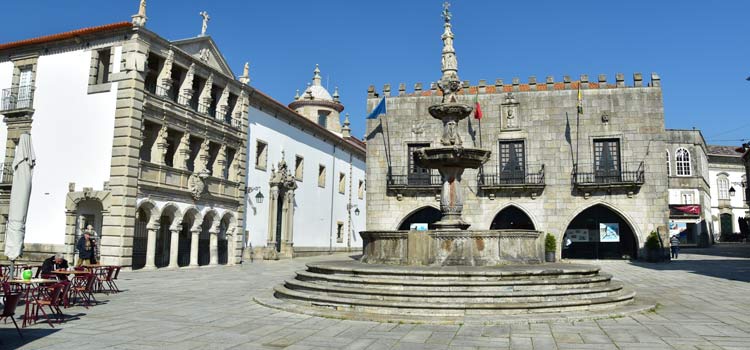 Viana do Castelo is virtually unknown by tourism but there is a lot going for it
Day trips from Porto
The following section provides a short overview of each of the day trip destinations and provides links to further in-depth information.
Day trip to Guimarães
Guimarães is a charming and historic city that is regarded by the Portuguese as the birth place of their country. This ancient city was the first capital of Portugal and the birth place of the first true king of Portugal; Afonso Henriques. The exceptional historic city has a significant amount to see and do. Top attractions not to be missed include; Guimarães Castle, Palace of the Dukes of Braganza, Olive square and Misericórdia convent. Visitors should also take time to roam the charming cobbled streets and squares to soak up traditional Portuguese life.
Tourists should also take a cable car ride to the top of the Penha Hill, which provides stunning panoramic views of the city and enjoyable hiking trails. Guimarães is connected to Porto by a direct train that takes 1 hour 15 minutes and costs €6.20 (return).For an in-depth day trip guide to Guimarães, please click here.
Guimarães Castle
Day trip from Porto to Braga
Braga is a historic yet cosmopolitan city that offers visitors numerous interesting attractions. Braga boasts the oldest cathedral of Portugal, but this is equally balanced against the students of the Universidade do Minho, who bring energy to this city. Braga is centred on the beautiful Praça da República with its famed fountains, while the Raio Palace is a fine example of baroque architecture.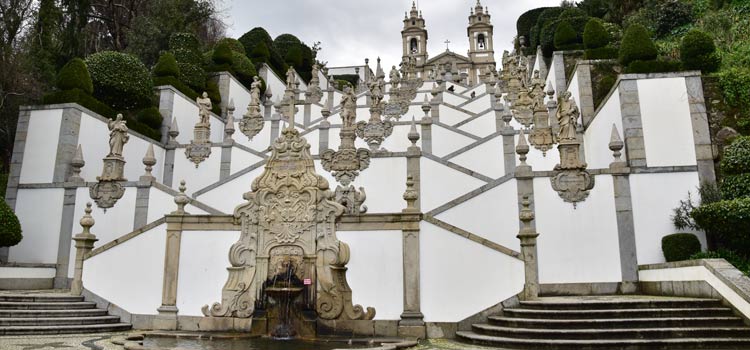 The Bom Jesús church in Braga
Braga contains one of the most iconic monuments of northern Portugal; the Bom Jesús do Monte Church. The church is located at the top of a steep hill with a decorative baroque staircase that leads up to it, while for the less energetic, the world's oldest water powered funicular transports visitors up the hill. Porto is connected to Braga by train, and the journey takes around an hour. For a guide to a day trip to Braga please click here.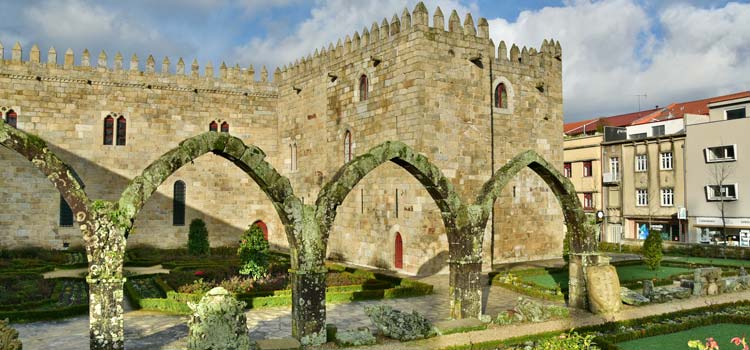 The pretty historic center of Braga
Day trip to Espinho Beach
It comes as a surprise to many visitors to Porto that there are many great beaches close to the city. One of the best beach towns is Espinho, which is situated 20km south of Porto and is connected by a regular and inexpensive train service. The beach is vast, extending for a total of 17km, and, as it faces a westerly direction, provides waves that are suitable for surfing.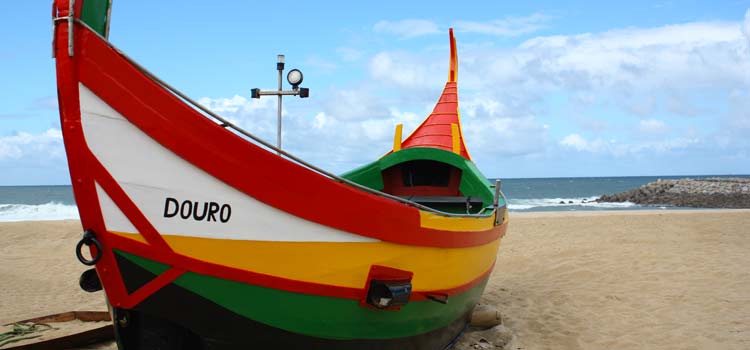 The colourful fishing boats at Espinho
For those who wish to do more than just relax on a beach, there is also a popular hiking/cycle path along the coastline, while in the town centre has the largest casino of northern Portugal. On Monday mornings Espinho hosts a large traditional market. Espinho is a pleasant destination for an alternative day trip from Porto. For more information on Espinho Beach please click here.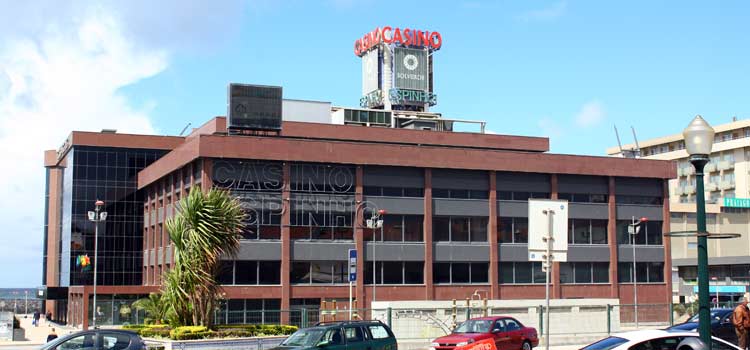 Espinho Casino
An alternative beach option, which is closer to Porto is Matosinhos Beach. This large sandy beach is not as scenic as Espinho as is close to a large port but can be reached via the metro and is perfect for half a day of sunbathing.
Day trip along the Douro River
The Douro River valley offers some of the most beautiful landscapes in northern Portugal. The slow meandering river cuts through the deep valleys, which are lined with terraced vineyards that go to produce the famous wines of the region. There is no better method to experience the area than to join one of the leisurely ferry rides up the river. These ferry cruises tend to travel in one direction with the return journey via train or bus and are an enjoyable relaxing full day activity. Prices of tours vary dependent on food options and comfort level; ranging from € 35-75. For a guide to exploring the Douro valley by train please click here.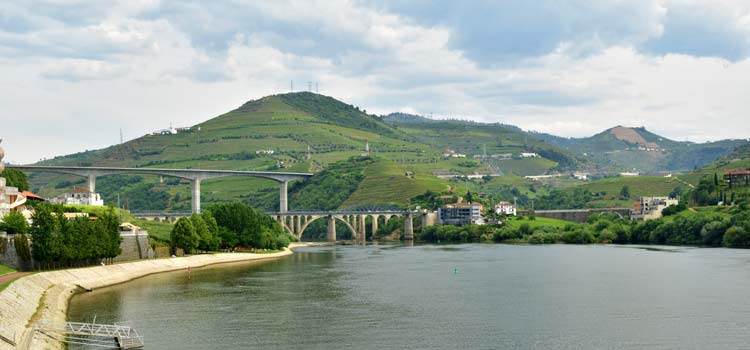 The vineyards of the Douro River
Day trip to Aveiro
Aveiro is pleasant town that is located on the edge of a wide lagoon and is crossed by a series of canals. Along these canals Moliceiros fishing boats, which resemble gondolas, glide with their passengers. These gondolas and the art Nouveau buildings have given rise to Aveiro being referred to as the Venice of Portugal. Aveiro has a pretty city centre that offers a relaxed ambience and makes for an alternative day trip from Porto. Just to the west of Aveiro is Costa Nova with its magnificent beaches of soft golden sands and massive surfing waves. For a guide to a day trip to Aveiro please click here.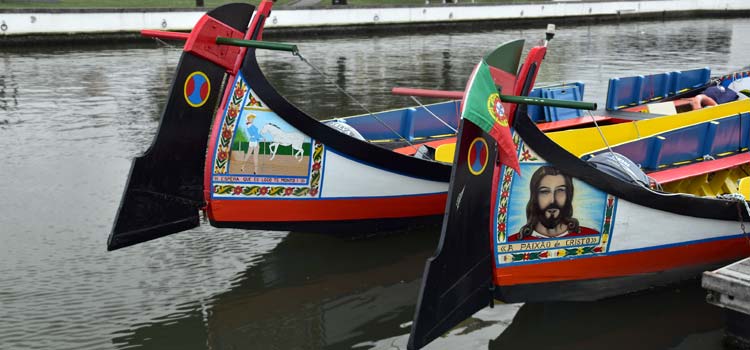 A gondola passing along the canals of Aveiro
Day trip From Porto to Coimbra
Coimbra is the ancient university home of Portugal and is a city that is steeped in history and traditions. The university students, dressed in their customary black gowns, can be seen throughout the city. On a map, Coimbra may appear too distant for a day trip from Porto but it is connected to the express rail service, the Alfa Pendular, which makes the journey in less than an hour. These train tickets must be pre-booked. It is also viable to include Coimbra as a day trip option when travelling between Porto and Lisbon.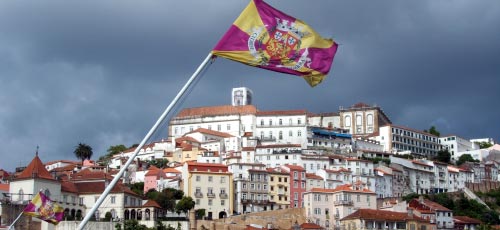 Pretty and historic Coimbra