Introduction to Ponte de Lima > Day trip to Ponte Lima > Porto Guide > Porto Day trips > Porto Beaches >1 week Porto
Ponte de Lima Portugal –
A tourism guide fully updated for 2020
Ponte de Lima is one of the most characterful and charming towns of northern Portugal, if not the whole of the country. The town sits on the southern banks of the slow-flowing Lima River, and this location has been the main river crossing since the Romans constructed a bridge in 1AD.
Ponte De Lima is one of the oldest towns of Portugal, and this extensive history is reflected in the delightful assortment of ancient houses, pretty plazas and grand religious buildings, found throughout the town. Adding to this captivating mix of historical sights, are a series of pretty flower gardens, interesting museums and stunning natural scenery, which all together creates a wonderful tourist destination.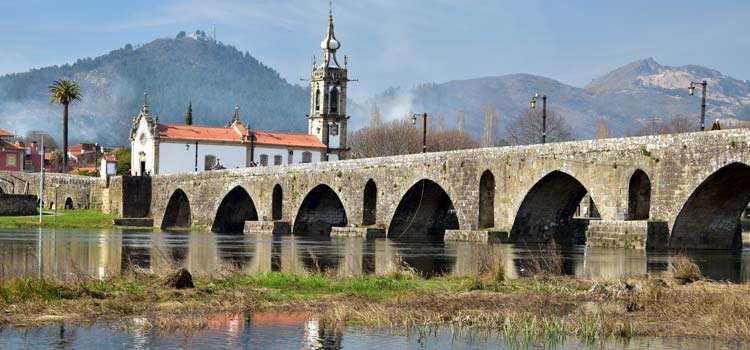 The Ponte Medieval bridge, Lima River and the Igreja de Santo António
Ponte de Lima is also a centre for adventure activities and outdoor pursuits. There is the Ecovia cycling route, kayaking along the Rio Lima, mountain biking or hiking in the Serra D'Arga or nature trails and bird watching in the Lagoas de Bertiandos. There is so much to love about Ponte de Lima, and the town should be included in your tour or holiday of northern Portugal.
Highlights of Ponte de Lima
Is Ponte de Lima really that good? Our Opinion
We have been exploring Portugal for over 15 years and would consider Ponte de Lima as one of the finest small towns in Portugal. The town is an adorable mix of stunning scenery, quaint sights and beautiful gardens.
Tourist literature frequently boasts of Ponte de Lima being the "most floral town of Portugal", and again this no overstatement. During the Festival Internacional de Jardins the town is awash with flowers, and sweet floral scents waft from the numerous gardens and parks.
For a longer stay, the town has infectious relaxed ambience, and it is so easy to while-away a day in one of the many excellent restaurants or cafes. Ponte de Lima is a popular tourist destination, but it is possible to escape the summer crowds along one of the deserted hiking or cycling trails in the rolling Minho countryside and the granite peaks of the Serra D'Arga. Simply put, Ponte de Lima is the quintessential Portuguese town, and will appeal to a wide variety of tourists.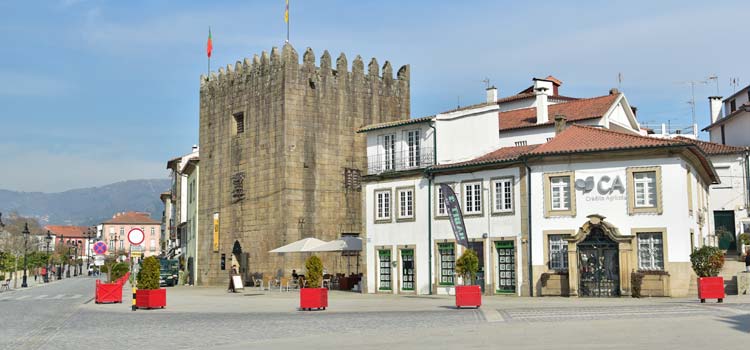 The pretty historic centre of Ponte de Lima and the Torre da Cadeia Velha
How long to spend in Ponte de Lima?
Ponte de Lima is a small town, and can be easily seen in a few hours, which makes it ideal as a day trip. A day trip is a suitable choice if you are based in Viana do Castelo (32km away) and using public transport or are in Porto (85km away) and have a rental car.
There is surprisingly poor public transport from Porto to Ponte de Lima, therefore we would recommend a stay of one night for a hassle-free visit. For those visitors touring the northern Portugal, one night is sufficient to see the town, but Ponte de Lima does make a pleasant base from which to explore the region.
The map below shows the location of hotels and rental rooms in Ponte de Lima; by altering the date to your holiday, the map will display current prices:
Our opinion: An alternate location for a base to explore the Minho region is Viana do Castelo. This is a bustling city, with numerous sights and great tourist facilities, and makes for a great holiday destination, for a guide please click here.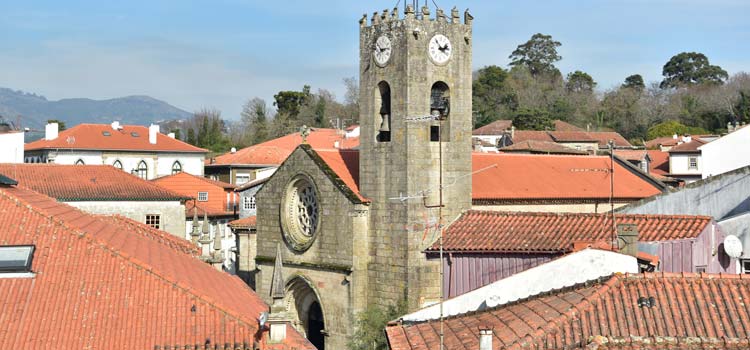 The gothic Igreja da Misericórdia church
A day trip to Ponte de Lima
A day trip to Ponte de Lima takes around three hours to explore the historic centre and can be extended to around five hours to include all of the gardens, museums and riverside walks. In comparison, Ponte de Lima takes less time to fully see than Braga, Guimaraes or Viana do Castelo. If you have a rental car Ponte da Barca (20km to the east) could be added to the day trip. For our guide to a day trip and a suggested 1-day itinerary for Ponte de Lima, please see this article.
Warning: All of Ponte de Lima's museums are closed on Mondays, including the Vinho Verdes wine tasting centre.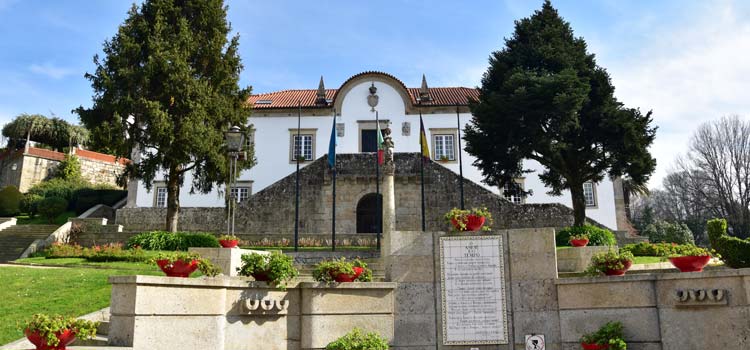 The Câmara Municipal of Ponte de Lima
Camino de Santiago (Caminho Português)
Ponte de Lima is one of the major towns along the Portuguese route of the Camino de Santiago (called the Camino Portugués). You could not ask for a more picturesque town between two of the most challenging sections of the pilgrimage hike.
The hike from Barcelos to Ponte de Lima is one of the longest at 35km, while Ponte de Lima to Rubiães is shorter (at 17km), but passes through the hills of the Serra D'Arga. Ponte de Lima has a good selection of shops, hotels and restaurants and is used to a constant flow of weary walkers. If you are planning a location for a rest day along the route, Ponte de Lima would be a good choice.
There's wine tasting?
The Lima Valley is the native home of Loureiro grapes, and these are used to produce the region's light and refreshing Vinho Verdes wines. The Centro de Interpretação e Promoção do Vinho Verde actively promotes these wines and provides wine tasting. This centre is conveniently located in the centre of Ponte de Lima (GPS: 41.76779, -8.58276) and is highly recommend to add to any trip to Ponte de Lima. More information can be found on their website:
http://www.cipvv.pt/en/
(link opens new window)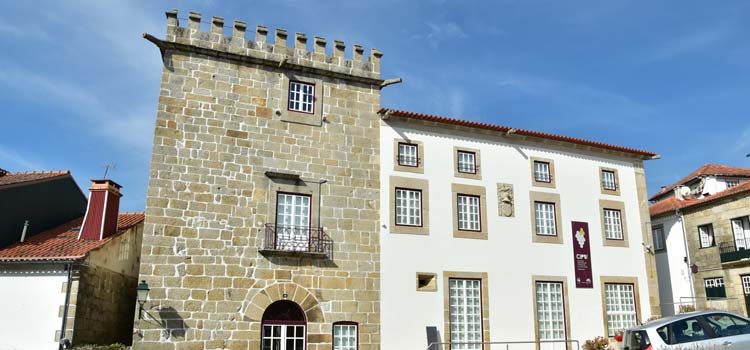 The Centro de Interpretação e Promoção do Vinho Verde
The Ponte Medieval bridge
The most famous attraction of Ponte de Lima is the bridge which spans the Lima River. There are actually two sections of this bridge; the Ponte Romana and the Ponte Medieval.
The Ponte Romana is the much older bridge, being constructed by the Romans in the first century. This bridge spanned the river when it flowed further north, and today the seven arches of the bridge cross a field next to the Igreja de Santo António.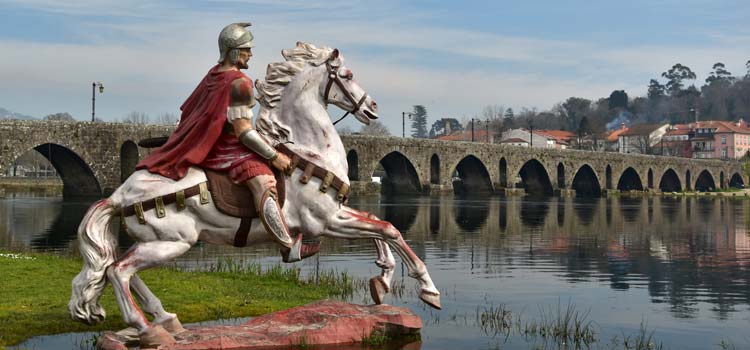 The Roman general on his horse after crossing the Lethe River (Rio Lima)
The Ponte Medieval was constructed much later in 1370, and was part of a wider project to improve the defences of the town, which included the town walls and towers (such as Torre da Cadeia Velha). The bridge consisted of seventeen arches, (two are buried today) and defensive crenellations, but most of the stone merlons were later removed to be used as building materials.
The Lethe River and the fearful Romans
During the early Roman rule of Portugal, they believed that the Rio Lima was the Lethe River, one of the underworld rivers of Hades. They were fearful as they believed that anyone who immersed in its waters would lose their mind to Oblivion.
General Decimus Junius Brutus was forced to test this superstition in 138 BC, during a campaign into northern Spain. He crossed first on his horse and then to ensure his men didn't get "lost to Oblivion" they shouted out their names as they braved the waters. This first crossing of the Lima River is commemorated by the Roman statues on either side of the river banks.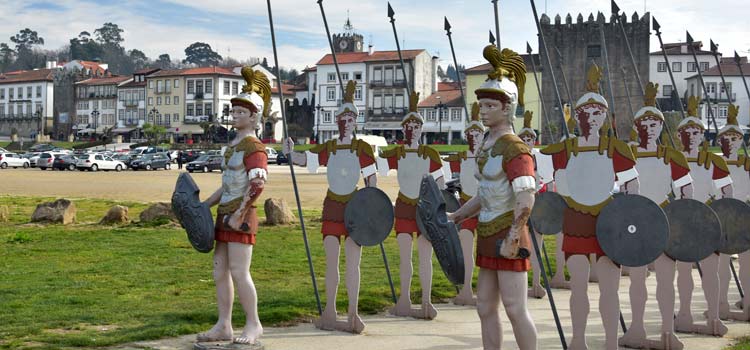 The Roman soldiers who were fearful to cross the Lethe River
Ponte de Lima Golf
South of the town is the Axis Ponte de Lima Golf, an 18-hole golf course with a par of 71. More information can be found on their website:
http://www.axishoteis.com/en/Axis-Hotels/Hotels/Axis-Ponte-de-Lima/Golf.aspx
Travel information
Ponte de Lima is designed to be driven to, and there is ample parking in the two large car parks (GPS 41.77165, -8.58228 or GPS 41.76818, -8.58558). During the low season these carparks are popular with campervans.
There is surprisingly poor public transport to Ponte de Lima; there are no rail connections and bus services are very limited, even from Porto. There are multiple bus companies offering services from Porto to Ponte de Lima, but each only has infrequent departures, the bus companies are:
http://www.ovnitur.pt/expresso.php
http://www.avminho.pt/horarios
https://www.rede-expressos.pt/en/
http://www.barquense.com (from the airport)
(links open new tabs)
It is much easier to travel from Viana do Castelo to Ponte de Lima by public transport and the number of departures means that the town can be visited as a day trip. The bus route is operated by Auto Viação do Minho (AVMinho), and a link to their website (and timetable) can be found here:
http://www.avminho.pt/horarios
(link opens new link)
The main bus stop in Ponte de Lima is on the Av. António Feijó (GPS: 41.76658, -8.58196).