How long to stay in Porto? How many days to spend in Porto?
Porto is a fascinating, traditional Portuguese city that makes for a memorable holiday destination.
The city offers a wide variety of activities, interesting tourist attractions and lively nightlife. Surrounding Porto is a region of historic towns and the stunning natural scenery of the Douro Valley and the Costa Verde coastline.
This variety means a trip to Porto could range from a single, intense day of sightseeing through to a ten-day discovery of the whole of north-western Portugal.
This guide will provide ideas for different lengths of holidays within Porto, and help you get the most from your time in this fantastic region.
Related articles: Introduction to Porto - Top 10 Porto - Porto Day trips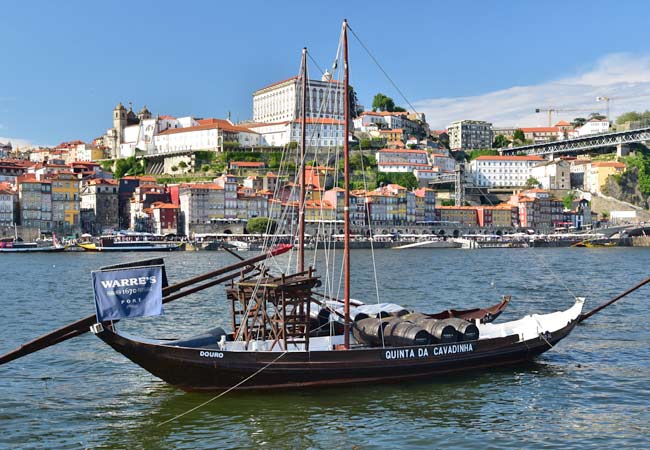 The water front of Vila Nova de Gaia
How many days does it take to see Porto?
It takes two days of sightseeing to discover Porto, making it ideal for a weekend city break. This could be condensed into a single day, however, it could feel very rushed. Three days will allow you to explore the city at a more leisurely pace, as well as providing time to visit the museums and lesser-known sights.
If you are new to Porto, it is suggested to plan two days in which to fully see the city. A suggested tour (with a map) is shown later in this guide.
Insight: Lisbon is larger than Porto, and it takes three days to fully explore Lisbon. Lisbon and Porto are both fantastic cities and are equally as good for a city break.
Related articles: Our Lisbon guide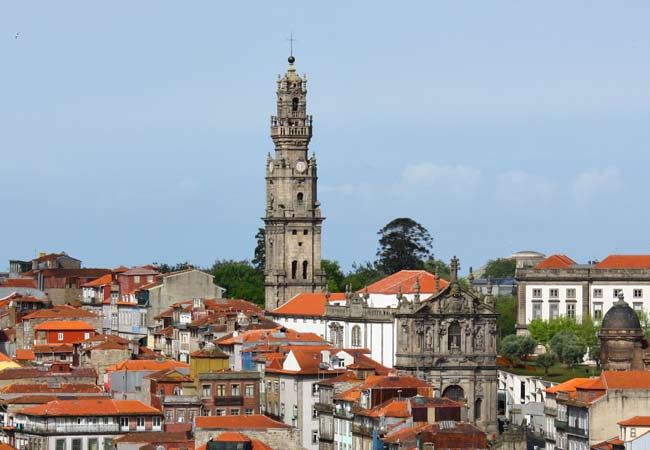 The Torre dos Clérigos, the tallest building in the historic centre of Porto
A longer holiday to Porto
There are many interesting day trips from Porto that could easily extend a holiday out to a week or even longer. The best day trips from Porto are Guimarães, Braga, the Douro Valley and Aveiro. If you are willing to travel a little bit further, you could also visit Viana do Castelo or Coimbra.
Insight: All of these day trips are possible using Porto's excellent public transport, so there is no need for a rental car.
Related articles: Day trips from Porto – 1 week in Porto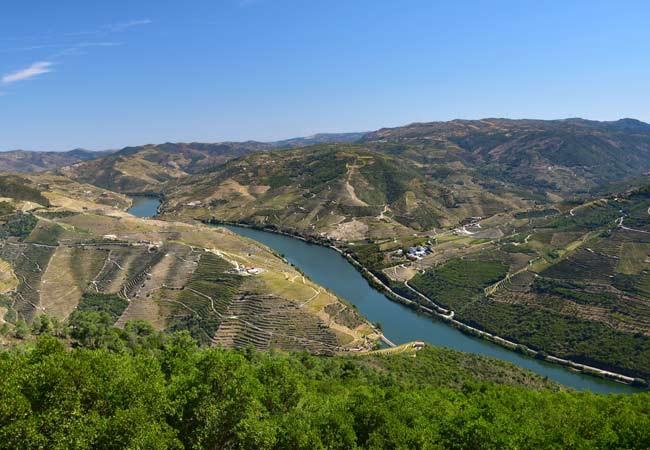 The beautiful Douro Valley region is famed for its terraced vineyards, and its grapes are used to produce Port
The beaches of Porto
If you visit Porto during the summer months (June to the middle of September), you could also include a visit to one of the beautiful beaches of the Costa Verde coastline. Close to Porto is the gorgeous sandy beach of Matosinhos. This is a modern town with a large port, and is very popular with the residents of Porto.
Pretty beach towns close to Porto include Vila do Conde, Povoa de Varzim, Espinho and the village of Miramar – all of which can be reached by train or metro.
Related articles: Porto beach guide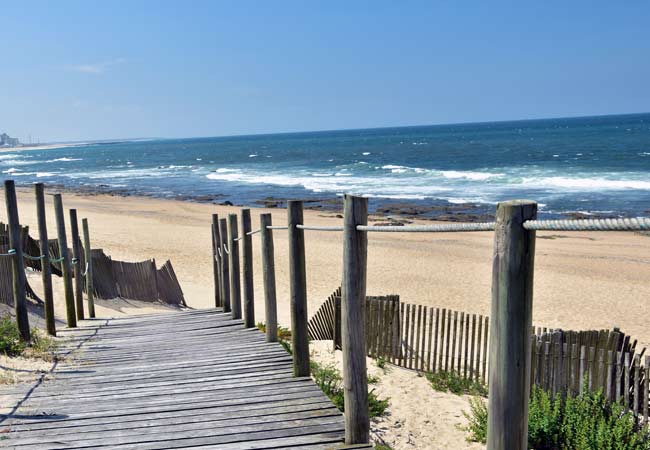 The wild and rugged beaches close to the village of Miramar
Two days in Porto
Two days in Porto days is the perfect length of time in which to explore Porto.
The first day would be spent exploring the historic centre of Porto, which includes the Se, Baixa and Ribeira districts.
Sights not to miss include the beautiful, tiled exterior of the Igreja do Carmo, the Gothic Se cathedral, the wonderous Livraria Lello bookshop and the Torre dos Clérigos. The first day could also include a 90-minute boat ride along the Douro River, which passes beneath the six bridges of Porto.
In the evening, you could head to the Ribeira district, with its sociable atmosphere and great choice of restaurants overlooking the Douro. For late-night bars and clubs, head to the Rua Galeria de Paris, close to the university.
The second day would visit Vila Nova de Gaia, the city on the southern side of the Douro River.
This is the location of the impressive Port cellars where the sweet, fortified wine is matured. Here you could join a Port tasting tour, ride the cable car, or just relax and embrace the friendly atmosphere of the area.
In the afternoon, you could visit the pretty Foz district, which sits at the mouth of the Douro River. Foz offers pretty riverside walks, as well as numerous small beaches facing the Atlantic Ocean.
For a cultural trip day two, you could visit the modern art at the Fundação Serralves or visit the Museu Nacional de Soares dos Reis - a grand palace with an extensive collection of 18th-century exhibits.
Related articles: Top 10 sights and activities in Porto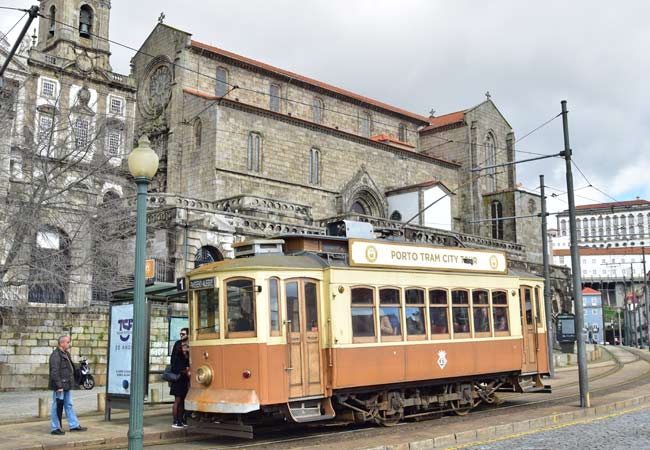 The traditional tram of Porto, which connects to the Foz district
The interactive map below displays a suggested route for your two days in Porto. The green line shows the route for the first day, with the yellow line marking the second day. (Note: Zoom out to see all of the points)
Day one: 1) São Bento train station 2) Torre dos Clérigos 3) Igreja do Carmo 4) Avenida dos Aliados plaza 5) Sé cathedral 6) Ribeira district 7) Igreja de São Francisco 8) Palácio da Bolsa 9) Rua das Flores (shopping street)
Day two: 10) Ponte Luís I bridge 11) Cálem (Port cellar) 12) Sandeman (Port cellar) 13) Ferreira (Port cellar) 14) Foz district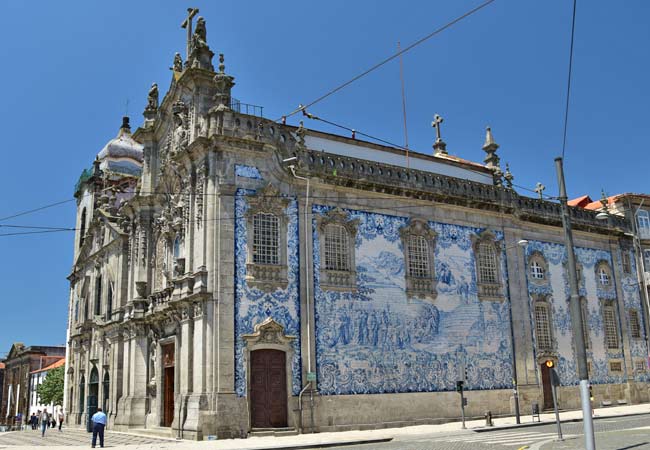 The magnificent Igreja do Carmo church, with its beautiful Azulejo tile murals
Have you booked your accommodation yet?
There is very high demand for accommodation during the peak season in Porto, especially at the weekends. It is always advisable to book your accommodation as early as possible to secure the best locations and prices.
The map below shows the location of hotels and rental rooms in Porto. By altering the date to suit your trip, the map will display current prices and availability.
A week holiday to Porto
Porto is a wonderful destination for a week-long holiday, with many interesting day trips and varied activities.
• Day 1 – Porto (historic centre)
• Day 2 – Porto (Vila Nova de Gaia and the Foz district)
• Day 3 – Day trip to Guimarães
• Day 4 – Day trip to the Douro Valley (by car, train or river cruise)
• Day 5 – Day trip to Braga
• Day 6 – Day trip to Aveiro or beach day to Matosinhos
• Day 7 – Day trip to Vila do Conde or Lamego
Insight: All of these day trips are possible using public transport, so there is no need for a car while on holiday in Porto.
Braga and Guimarães are the most popular day trips from Porto, with each of the requiring a day to see. It is too much to combine them into a single day, even if you have a car.
Guimarães is a historic and characterful Portuguese town, which is regarded as the birthplace of Portugal. Braga is known as the religious centre of Portugal as it contains the country's oldest cathedral. Close to Braga is the Bom Jesus do Monte, one of the finest monuments of northern Portugal.
Guimarães is the better destination for your first-day trip. If you have three days to spend in Porto, Guimarães is the suggested day trip for the third day.
Insight: For something completely unique to visit while in the Porto region is the "Ponte 516 Arouca" bridge. This is the world's longest foot suspension bridge at 516m (hence the name), which spans the Rio Paiva and is next to the Cascata das Aguieiras waterfalls.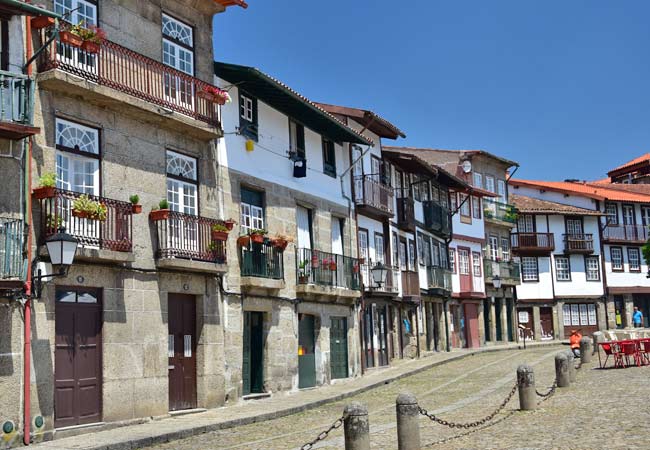 The historic centre of Guimarães
Porto in a single day
You may be restricted to just a single day in Porto, either as part of a short tour, flight stopover or cruise stop.
Porto can be visited in a single day, but it will be a very busy day of sightseeing.
For a single day in the city, it is suggested to include the Se and Vitória districts and the Ribeira waterfront, before ending the day in Vila Nova de Gaia with a tour of a Port cellar. On the map for "Two days in Porto", this would include points 1, 2, 3, 5, 6, 10 and 11.
When to visit Porto and the weather
One consideration for a holiday to Porto is the weather.
Porto has wonderful weather from May to September, but the winters can be very wet. This wet weather continues until April, which can be a surprisingly rainy month. If you to plan to visit Porto between October and April, leave any bookings until the last minute so that you can confirm the weather will be good. There can be amazingly cheap deals to be found during late autumn and early spring.