Port cellar tours and Port tastings in Porto - updated for 2023
Porto is famed for producing Port wine, and a tour of one of the historic port cellars along with a port tasting session, is one of the best unique activities of the city.
Ancient laws dating back to the 17th century, dictate that for the sweet, fortified wine to be classified as Port, it must be stored and matured within the city of Vila Nova de Gaia, which sits opposite Porto on the southern banks of the Douro River. This means that within a relatively compact area of Vila Nova de Gaia are all of the major Port houses and their cellars (which are referred to as Lodges)
Many of the Port houses provide guided tours of their cellars along with Port tasting sessions. These tours and tastings sessions are informative, social and surprisingly inexpensive, and are a fantastic experience while on holiday to Porto.
This guide will detail the best Port tour and tasting sessions and help you get the most from this very enjoyable experience.
Related articles: Introduction to Porto –Top 10 Porto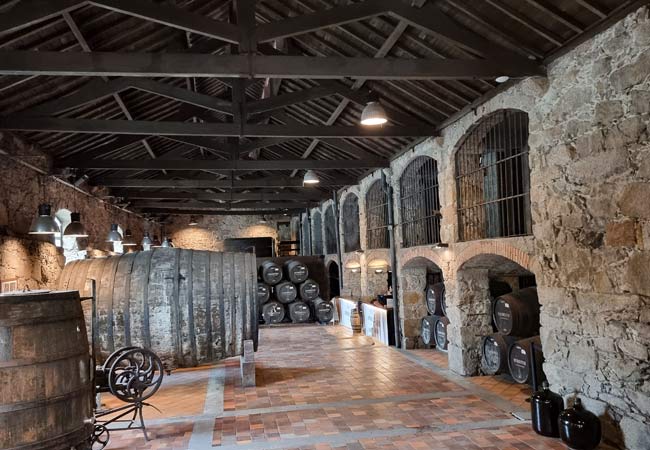 Being many centuries old, the Port cellars are rich in heritage - such as the Caves Burmester, pictured above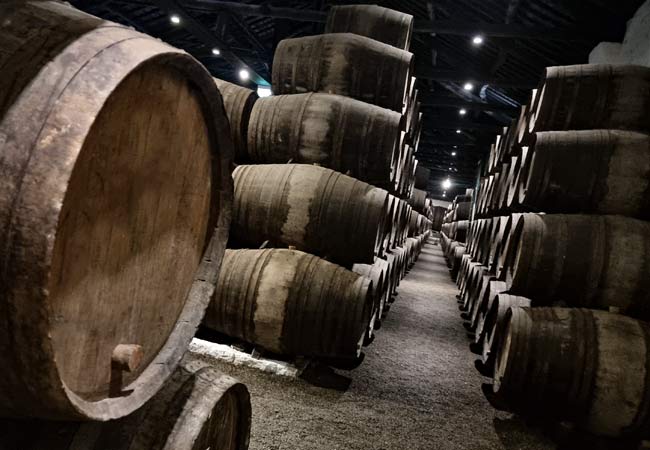 Tawny Ports are aged in small, oak casks and are typically stored for between 10 and 40 years
Port cellar tours in Porto
All of the Port cellars are situated on the southern side of the Douro River in the city of Vila Nova de Gaia. Each of the Port houses provides a slightly different experience, but they generally follow the same pattern:
• An overview of the production of Port
• The history of their company
• A guided tour of the cellars (including photo opportunities)
• A tasting of two or three ports
The tasting session often compares the three types of Ports; White, Ruby and Tawny or a selection of Ports of different ages.
The typical cost of a cellar tour, with a basic tasting, will range from €14-17. This type of tour is offered by all of the Port houses. More expensive tours include a premium selection of Ports, often hosted in a more impressive tasting room.
All of the Port cellar tours (except for Taylor's) are led by a tour guide, so they have a maximum number of spaces and set times for different languages. Tours should be pre-booked before heading to Vila Nova de Gaia, as turning up on the day can often lead to disappointment, especially in the peak summer season.
We always suggest visiting at least two Port cellars during your stay in Porto. This is a fantastic activity for later in the afternoon or evening, as you may leave a little bit tipsy!
The main tourist area of Vila Nova de Gaia lies along the banks of the river, and the port houses in this area (such as Sandeman and Cálem) will always be the most popular and sell out first. The cellars further away from the river, which are up a steep hill, provide a calmer atmosphere and often have more spaces available. These cellars include Real Companhia Velha, Graham's and Cockburn's.
The interactive map below shows the location of the Porto lodges within Vila Nova de Gaia. The shaded yellow area marks the main tourist area. (Note: zoom out to see all of the points)
Key: 1) Augusto's 2) Burmester 3) Cálem 4) Churchill's 5) Cockburn's 6) Ferreira 7) Fonseca 8) Graham's 9) Poças 10) Ramos Pinto 11) Real Companhia Velha 12) Sandeman 13) Taylor's 14) Vasconcellos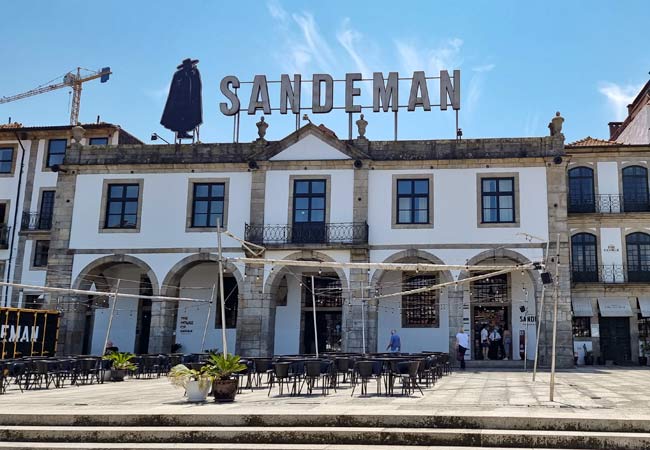 Sandeman is one of the most popular Port cellars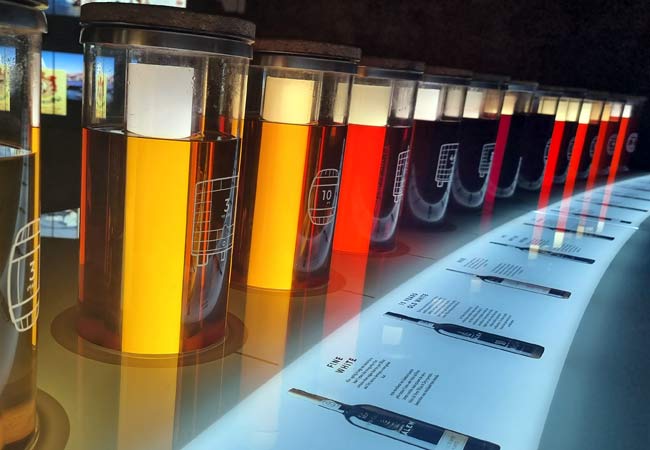 The colour scale and storage time of the different varieties of Port, as seen in the Cálem museum
The best Port cellar tours and tastings sessions in Porto
With more than ten different Port houses providing tours and tasting sessions, there is a wide choice available to you. As these are all very similar, you will have a fantastic time whichever one you choose to visit.
The best Port cellars to visit are: 1) Ferreira 2) Cálem 3) Real Companhia Velha 4) Graham's 5) Sandeman 6) Taylor's 7) Ramos Pinto 8) Cockburns 9) Burmester
Insight: If you are new to Porto, we would recommend starting with one of the more tourism-focused Port cellars, such as Cálem or Sandeman, then have a second (or third) tour to one of the more atmospheric cellars, such as Real Companhia Velha, Ferreira, Graham's or Cockburns.
Ferreira is regarded by the residents of Porto as the best Port cellar to visit. It offers an informative tour of some of the oldest port cellars in Vila Nova de Gaia and concludes with a great selection of Ports. The Ferreira company is highly regarded by the Portuguese, as it is a wholly owned Portuguese company (most Port houses were British owned) started by an inspirational woman named Dona Antónia Ferreira.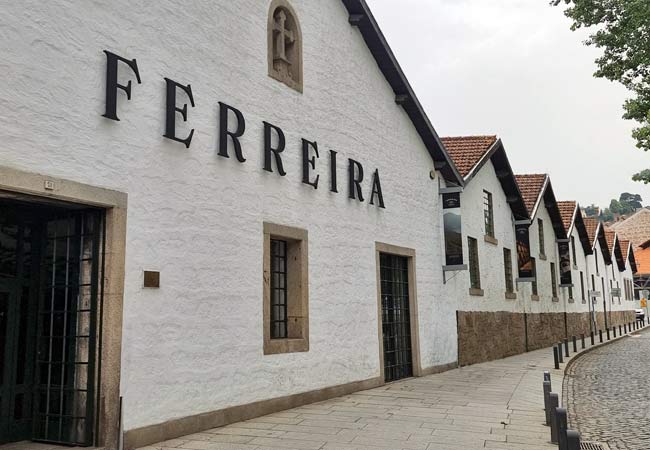 If you have no prior knowledge of Port, Cálem makes a great starting point. It provides knowledgeable guides and fascinating interactive displays. The downside is that it can get very busy, with large tour sizes and slightly rushed tasting sessions. (Cálem cellar tour tickets)
Real Companhia Velha provides a more authentic experience and features magnificent port cellars, however it is a long way from the main tourism area of Vila Nova de Gaia. Real Companhia Velha is one of the oldest wine companies of Portugal, having been started by King Jose I in 1757. (www.realcompanhiavelha.pt)
Graham's is a highly recommended experience, with a relaxed atmosphere and a larger set of cellars (www.grahams -port.com). The Sandeman cellar, at the heart of the tourism area, has enthusiastic guides and is always a popular choice with visitors: www.sandeman.com
Taylor's should also be mentioned, as it provides a self-guided tour with a multi-language handset. This tour is not limited by visitor numbers, which is great for the busy summer season or if your desired language tour is sold out at other cellars. Taylor's also has a pretty outside tasting area in a charming courtyard garden. (www.taylor.pt)
Ramos Pinto makes an interesting choice for your second or third Port tour, as it includes the original 19th-century office and details the 'unique' marketing techniques of the company. www.ramospinto.pt/
Cockburn's is the largest Port cellar in Vila Nova de Gaia. Their tour provides something extra, as here you are able to watch the coopers at work as they preserve and repair the wooden barrels. (www.cockburns.com)
Burmester is a smaller Port cellar at the base of the Ponte Luís I, which is also well worth a visit.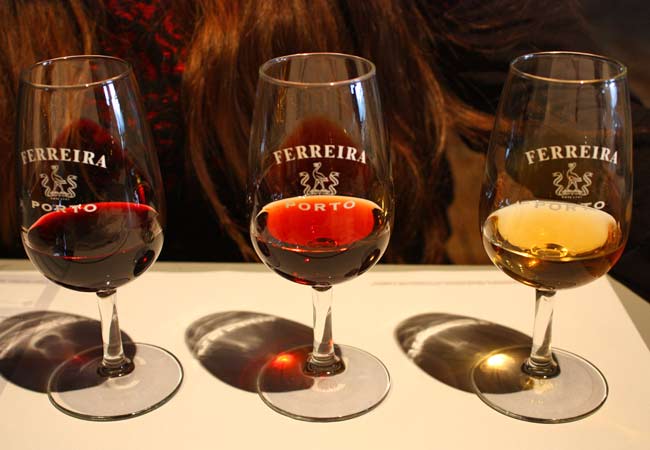 Porto tasting
Tourist insight: The port tours are excellent value, but the bottles of Port sold in the shops attached to the Port houses are often not good value. For standard bottles of Port, it is much better value to visit the wine shops in Porto or even the supermarkets.
Unique gift: Each bottle of Port states the year it was produced, which can make a unique gift for a birthday or to commemorate a special year such as an anniversary.
Why are the Porto lodges in Vila Nova de Gaia?
All of the Port cellars are located in Vila Nova de Gaia, and the reason for this dates back to the 13th century.
Medieval Porto was effectively ruled by the bishop of Porto, and he taxed all boats that moored in the city. King Alfonso, seeking to avoid these taxes, established a second port in Vila Nova de Gaia (New Town of Gaia) opposite Porto on the southern banks of the Douro.
This port became the main centre for the transportation of grapes from the Upper Douro, and it became law in the 18th century that all Port must be matured within Vila Nova de Gaia.