Porto Airport Guide
Porto's Francisco Sá Carneiro Airport is a modern, spacious terminal, which has ranked within Europe's top three airports numerous times.
This is unsurprising, given the airport's layout, range of facilities and excellent onward transport connections. This airport is ideal for passengers wanting an efficient transit to Port or other northern Portuguese destinations.
Located 11km from Porto, this airport enables tourists to go from plane to Porto within an hour.
This article will provide an in depth guide to the airport, including; details about the airport layout and facilities, transport connections to Porto, and airlines that fly to Francisco Sá Carneiro.
Related articles: Porto introduction - Top 10 Porto - 1 week in Porto - Porto day trips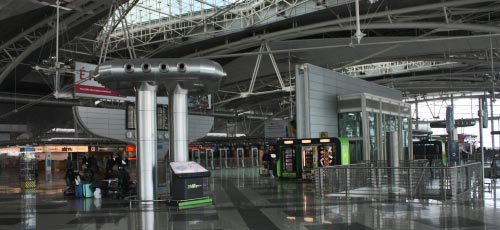 Porto Airport is modern, well organised and easy to fly from
Facilities at Porto Airport
Francisco Sá Carneiro Airport is well equipped for the short haul passenger. It has a good range of facilities that are well organised over the three-floor terminal building; arrivals hall is situated on the ground floor and departures on the third floor.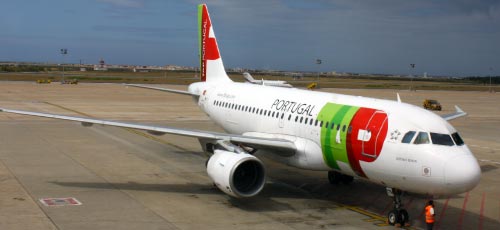 Tap Air is the national airline of Portugal
Food and Drink options: Visitors will not go hungry at the airport, and there is even a Portuguese restaurant for those who want a last (less authentic) taste of the country's cuisine. Before security: Costa Coffee, La Pausa Restaurant and self service, Super Bock Lounge (bar with pub food) and Ola (cakes and ice cream).
After security: Burger King, Costa Coffee, Quiosque Dos Sabores (cafe), Belight (healthy snacks), Douro Restaurant (Portuguese) and Madas beer (bar with pub food).
Shops & Duty Free: As with most airports, the main shops are situated after security. These include; a bookshop/news agent, clothing fashion shops and a well-stocked Duty Free area.
Currency & cash services: ATMs are located on each of the terminal floors and passengers requiring the metro, bus or taxi services will need a small amount of change. There is also a Currency Exchange in the arrivals hall and surprisingly, a full service bank; Santander.
WIfI: There is free, unlimited internet throughout the airport terminal building and this can be accessed by a registering via an internet homepage. Do expect this to be slower than home broadband.
Pharmacy: Within the departures area there is a pharmacy with English speaking staff, which is open from 8:30 to 23:00.
Luggage Lockers & storage: Passengers wishing to leave luggage at the airport can do so by visiting the Information desk on the third floor departures area. Luggage is charged by weight: Up to 10kg = €2.23, 10kg – 30kg = 3.37, over 30kg = 6.71 per day and is open from 05:00 to 23:00.
Car Rentals: There is a wide selection of international car rental agencies all based within the arrivals hall, these include; Europcar, Avis, Budget, Hertz, National and Sixth.
If renting a car, it is worth asking about a toll pass for the roads around Porto.
Airlines serving Porto Airport
Porto Airport is well served by low cost airlines across Europe, making it an ideal weekend and short break destination. The amount of airlines flying to Porto is increasing all of the time but this currently includes; Easyjet, Ryan air, TAP, British Airways, Swiss, Lufthansa, Iberia, Air Berlin, amongst others.
Transport from Porto Airport to Porto City Centre
One of the most highly rated aspects of Porto Airport is its well thought out transport links, allowing tourists to arrive within the city centre in less than 30 minutes.
Metro: For tourists looking for an easy, frequent and low cost service, the metro is highly recommended. The airport is connected to the city centre by the Violet (E) metro line, which is well signposted from the arrivals hall and located a short walk from the terminal. The service departs every 20 minutes from 6:00 to 01:00, with a journey time of 25 minutes.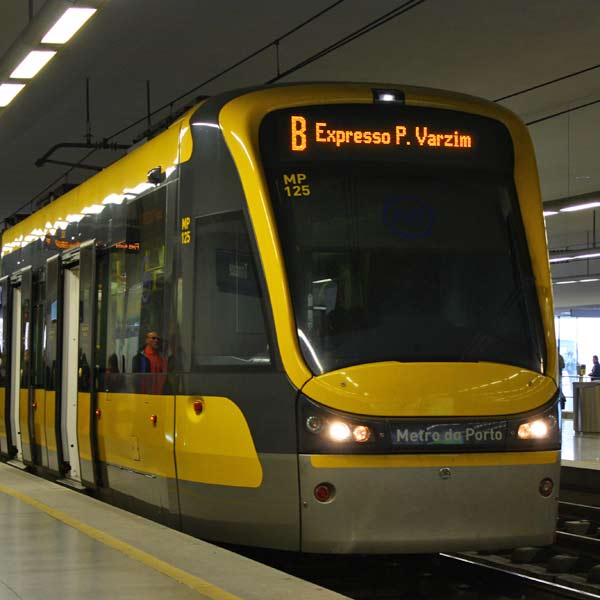 Porto metro is the best way to travel from the airport
This is also the cheapest service, costing approximately €1.80 (plus €0.50 for a re-usable Andante card). The Andante card allows tourists to travel on the Metro by simply topping up using a pay-as-you-go method. Cards can be purchased at the ticket machines, which have a 'translate to English' mode (the airport is within Zone 4), but can also be brought at the Tourist Office in the arrivals area – this is a helpful option for those needing guidance.
Taxis: For those with limited time and/or heavy luggage, taxis provide the most efficient way to get to Porto city centre. There are a wide range of taxi companies located in the arrivals hall and a taxi rank is just outside the main exit doors. Expect to pay around €20-30 and make sure to agree this with the driver beforehand. For tourists with limited Portuguese language skills, there are plenty of drivers who speak English; it is also helpful to write down the destination in Portuguese to avoid any confusion.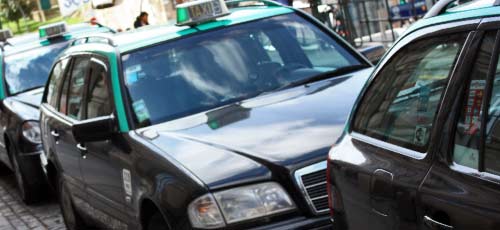 Porto taxis are after but more expensive than the metro
Bus: Whilst there are several bus options from Porto Airport, this route is not recommended as the metro provides a much quicker and cheaper option. For those, who wish to travel by bus, the airport is served by local SCTP buses and also a range of independent shuttle bus services. The tourist information office, located in the arrivals hall, can provide full information on current timetables, if required.