Porto intro > Sights and Activities > Day trips > Porto Beaches >2 days in Porto > 1 week Porto > Braga Day trip
Porto Weather Averages
The following weather charts display the average weather conditions for Porto, Portugal. The first chart shows the average weather conditions of Porto. The second weather chart displays the average number of hours of sun per day and is plotted against the maximum temperature. The third chart displays the day time maximum and night minimum temperature and the final chart deals with the amount of rain and number of wet days per month.
Porto Average Weather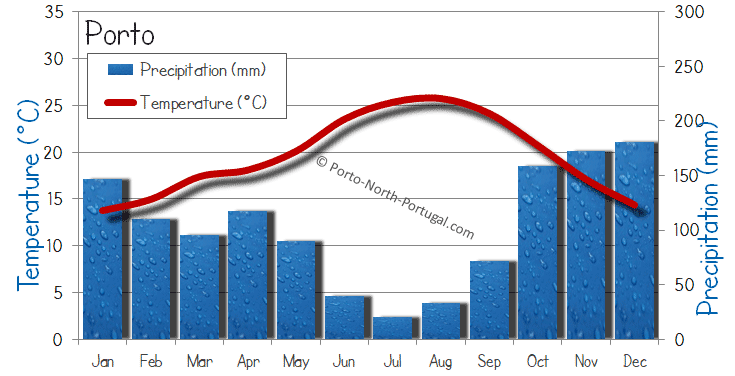 Late spring and the summer months are the best months to visit Porto, during this season the weather is bright, dry and hot. The evening temperature drops to pleasant levels and there is usually a gentle breeze. Porto does not suffer with the very intense summer heats of Madrid or the Algarve. Winters are very mild but experience a surprisingly high level of rain and wet days. The spring months are varied and sometime unpredictable
Porto Sunshine and hours of Sun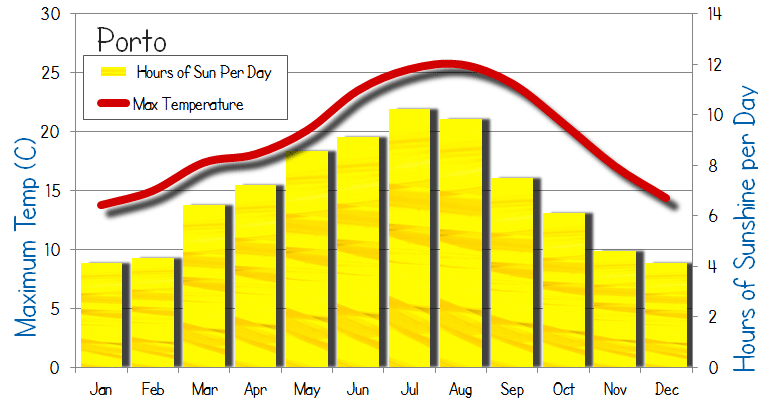 There is on average more than 10 hours of sunshine per day during the height of the tourist season and temperatures are pleasantly warm. The hours of sunshine tails off during the rest of the year with the winter months receiving almost the same amount of sunshine.
Porto Temperature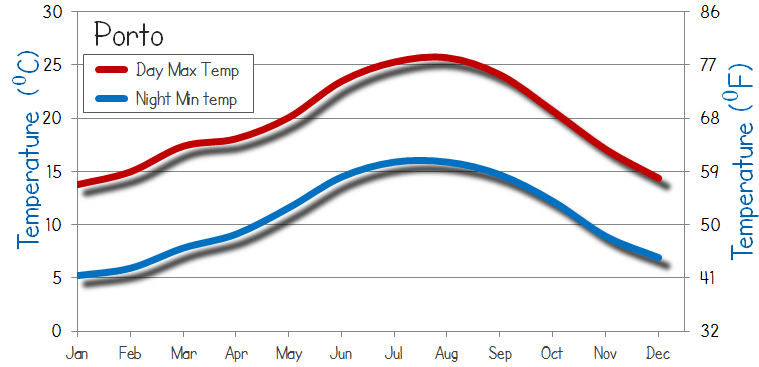 Porto has hot summers and mild winters. During the summer months the intense sun can make it feel much warmer than the average stated above. Winters are very mild due to the proximity of the ocean but this brings in the large amount of rain – see next weather chart.
Porto Rain and number of wet days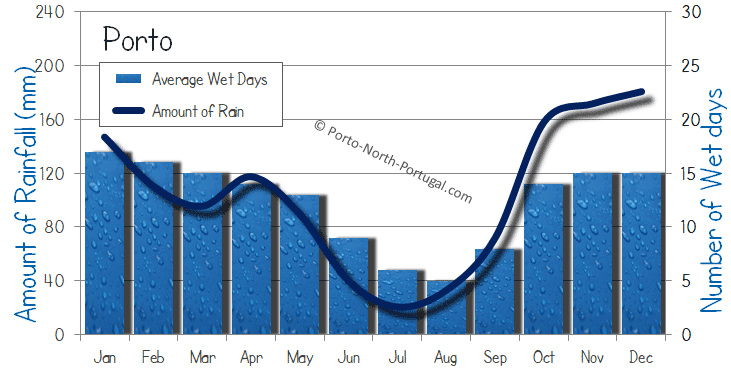 Porto is surprisingly one of the wettest capitals of Europe with only three months truly considered as the dry season (June-August. Winters in Porto tend to have significant amounts of rain and one in two days experience some rain.