Guimarães, Portugal: A tourism, day trip and holiday guide for 2022
Guimarães is one of the finest historic cities in northern Portugal, and is fondly regarded by the Portuguese as the birthplace of their country.
It was here that the first Portuguese king (Afonso Henriques 1109-1185) was born, and Guimaraes was briefly the capital city during the foundation of Portugal.
This rich history is reflected in the many fascinating sights found throughout the city. There is a magnificent Gothic monastery, a heavily fortified castle and an elegant 15th-century palace. Between these monuments lies a maze of cobbled streets and charming plazas, lined with traditional houses and family-run shops.
Guimarães is a delight to visit and is regarded as the best day trip from Porto. For your day trip, it is very easy to travel to Guimarães, as there is a direct train connecting Porto and Guimarães.
This article will show you why you should visit Guimarães, and how to get the most from your trip there.
Related articles: Day trips from Porto – 1 week in Porto
What are the highlights of Guimarães?
The Castelo de Guimarães – Constructed in the 10th century to defend against the Moors, this was the birthplace of King Afonso Henrique and later served as his royal court. The castle was greatly strengthened during the 13th century, and these fortifications are what we see today.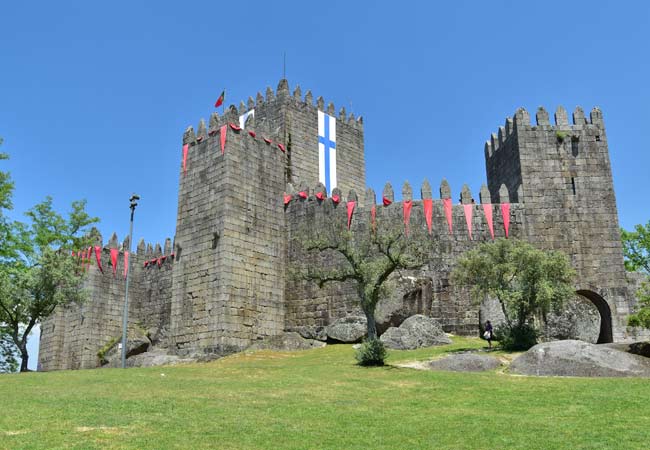 The Praça de São Tiago and Largo da Oliveira - The two medieval plazas at the heart of Guimarães are the most characterful areas of the city. The plazas contain many of Guimarães' oldest buildings, such as the Igreja de Nossa Senhora da Oliveira and the Antiga Câmara Municipal.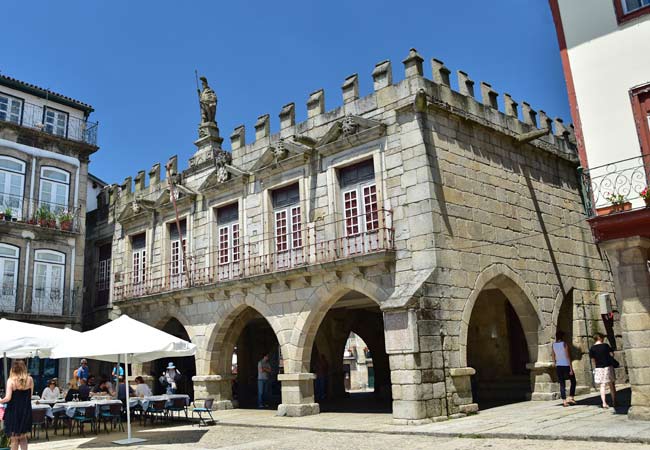 The Paço dos Duques de Bragança - This imposing 15th-century palace exhibits a fascinating collection of 17th-century furniture and tapestries. The palace was extensively restored (and almost rebuilt!) in the 1940s and is probably much grander today than it was originally.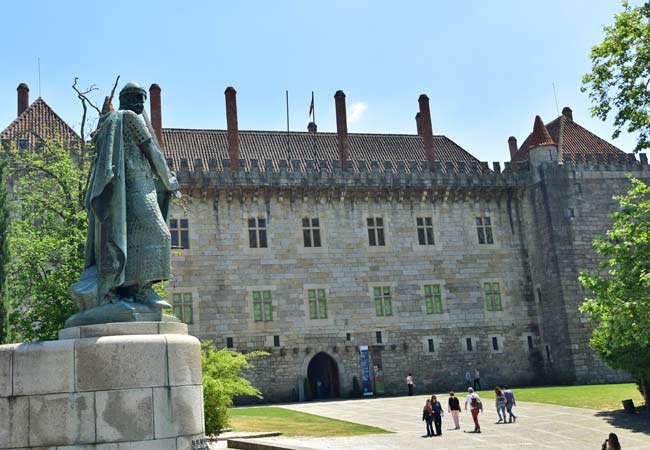 Monte da Penha – A forest-covered hill (613m) to the east of Guimarães, with giant boulders, tranquil footpaths and stunning views over the region. A cable car connects Guimarães with the Santuário da Penha, the modern church complex at the top of the hill.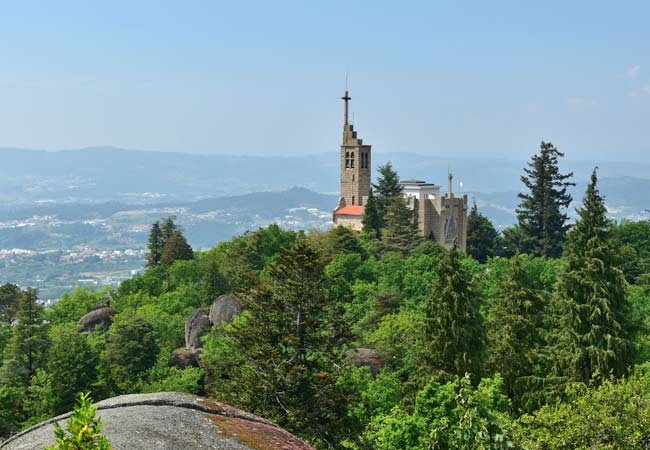 How long to spend in Guimarães?
You should dedicate one full day to sightseeing when visiting Guimarães.
While Guimarães is a compact city, it has a surprising number of plazas and narrow streets that are easy to get lost in. This can make the city seem much larger than it actually is. A typical visit to the historic centre takes around three hours, or five hours if you wish to explore all of its museums and religious buildings.
Penha hill (Monte da Penha) is a good addition to a trip to Guimarães. It takes around 90 minutes to explore the sights of Parque da Penha and ride the cable car both ways.
The wealth of fascinating attractions on offer makes Guimarães an ideal day trip from Porto, however this can be a very long day. The train takes 70 minutes each way (details later in this article), and for this reason, you may wish to spend the night in Guimarães. There are many excellent hotel options to choose from within the city.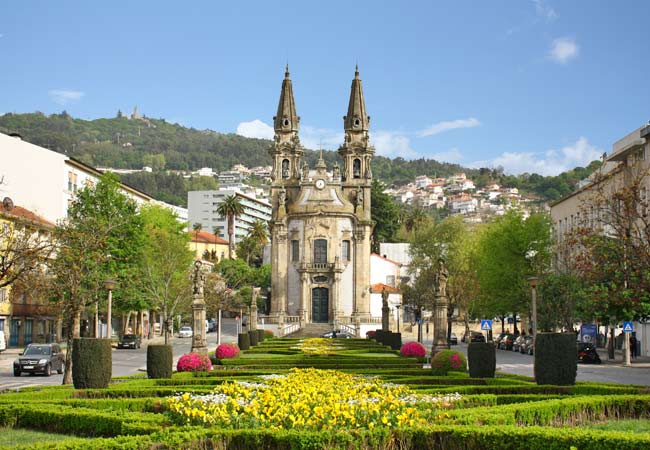 The Nossa Senhora da Consolação church and the pretty Largo República do Brasil avenue
Guimarães as a day trip
The majority of tourists visit Guimarães as a day trip from Porto.
A typical day to Guimarães will be divided into three sections; the medieval quarter, the Paço dos Duques/Castelo de Guimarães area and the Penha hill (Monte da Penha).
The city's delightful medieval quarter is focused around three plazas - the Largo da Oliveira, the Largo República do Brasil and the Largo do Toural. Most visitors begin with this section of the city, as it is closest to the train station. The area also contains the largest selection of restaurants, cafes and shops, making it the perfect area to stop and enjoy some lunch.
The Paço dos Duques palace and Castelo de Guimarães sit at the top of Largo hill, to the north of the medieval quarter. While in this area, do also visit the Santo António convent and the Igreja de São Miguel - the church where Afonso Henriques was baptised.
The final tourist area of Guimarães is Penha Hill. We recommend that you visit this area last, and only add to your day trip if you have the energy or time to spare. A cable car connects the city up to Penha Hill, and at the summit you will find the Santuário da Penha and pleasant forested footpaths nestled between the huge boulders.
Below is an interactive map for a suggested day trip to Guimarães. The tour starts from the train station, and the Penha Hill section is marked in yellow (Note: Zoom out to see all of the markers)
Sights of Guimarães: 1) Igreja de Nossa Senhora da Consolação 2) Largo República do Brasil 3) Igreja de Nossa Senhora da Oliveira 4) Largo da Oliveira 5) The Old town hall Antiga câmara municipal 6) Praça de São Tiago 7) Convento de Santa Clara 8) Igreja Nossa Senhora do Carmo 9) Paço dos Duques de Bragança 10) Igreja de Sao Miguel 11) Castelo de Guimarães 12) Estátua a Dom Afonso Henriques 13) Convento de Santo António dos Capuchos 14) Largo do Toural 15) "Here was born Portugal" city walls 16) Capela de São Francisco
Sights of Penha hill: 17) Santuário da Penha 18) Monte de Santa Catarina (viewpoint) 19) Summit of Penha hill (613m) 20) Miradouro do Penha (viewpoint) 21) Nossa Senhora do Carmo grotto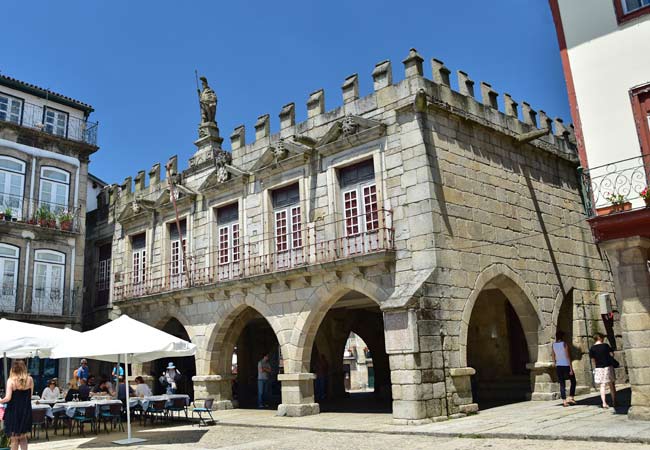 Antiga Câmara Municipal, the Old Town Hall on the Largo da Oliveira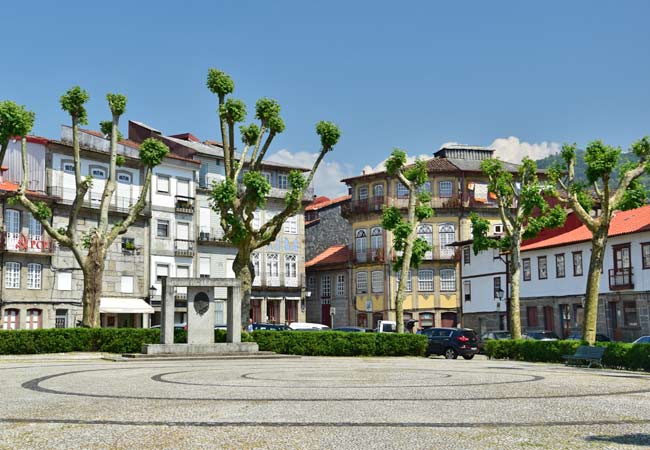 The Jardim do Largo Condessa do Juncal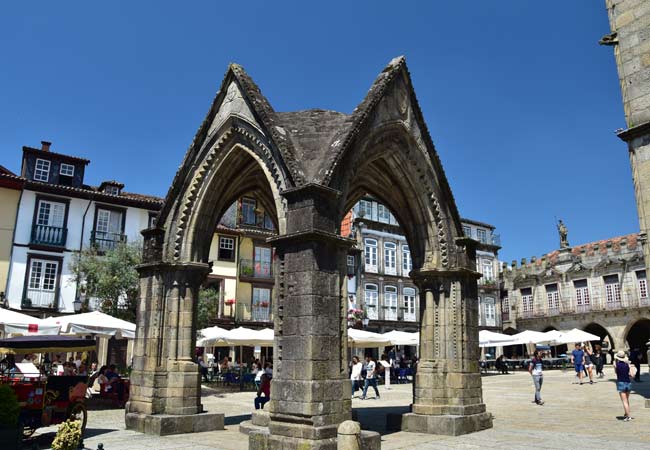 The pretty Largo da Oliveira – The plaza is named after the olive tree that grows in its centre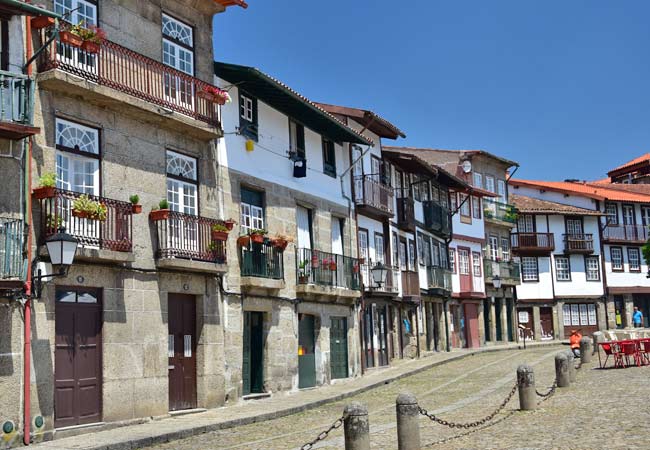 The Praça de São Tiago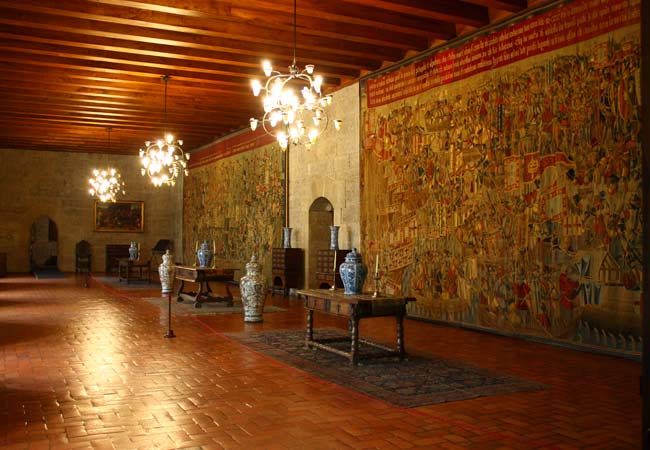 The 17th century tapestries hanging in the Paço dos Duques de Bragança
The Teleférico da Penha, the cable car that connects Guimarães with Penha hill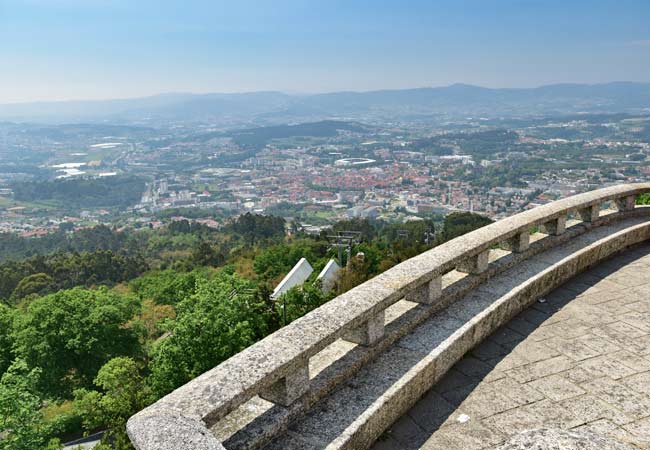 The view from the Monte de Santa Catarina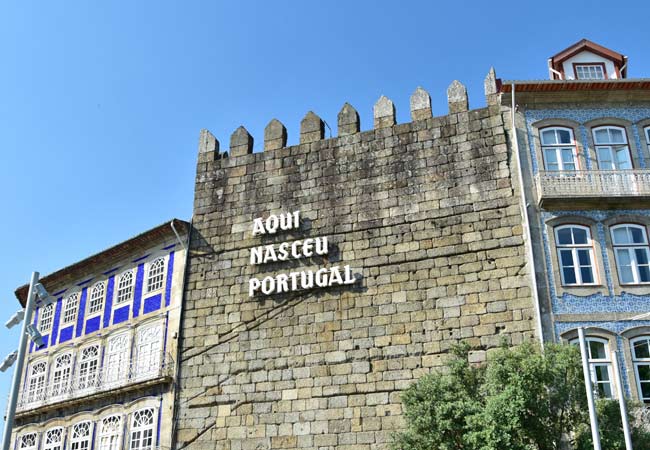 The famed "Here Portugal was Born" inscription on the city walls
Braga or Guimarães?
Guimarães and Braga are both popular destinations for day trips from Porto.
Braga is known as the religious capital of Portugal, and was the site of Portugal's first cathedral. Close to Braga is the beautiful Bom Jesus do Monte, with its decorative Baroque stairway.
Both cities are fantastic day trips, but we would recommend visiting Guimarães before Braga. Guimarães has more varied sights and is more pretty with its mediaeval streets and architecture.
Advice: If you are limited for time, you may be tempted to squeeze both Guimarães and Braga into a single day trip. We would advise against this, as both cities need at least one day to fully explore and are best visited separately, unless you join an organised tour.
Related articles: Braga guide - Day trips from Porto
A group tour of Guimarães?
An organised tour is a great way to discover Guimarães, especially if you are limited for time or don't want the hassle of public transport.
We have worked with GetYourGuide.com for the previous six years, and a selection of their best tours of Guimarães includes:
• Guimarães and Braga day tour with Entry Tickets and Lunch €90
• A popular tour of Braga and Guimarães €60
• Private tour of Guimarães and Braga (€195 for up to three people)
Travel from Porto to Guimarães
Guimarães is 43km to the northeast of Porto and is served by a direct rail service. In Porto, the train departs from the Sao Bento train station and a return ticket costs €6.20. The Guimarães-Porto railway is an 'urban' route, meaning it stops at many train stations and has a tedious journey time of 70 minutes.
The latest timetable can be found on the Comboios de Portugal (CP) website:
https://www.cp.pt/StaticFiles/timetables/oporto-guimaraes-urban-trains.pdf
This is a PDF, so it may download on mobile phones.
Warning: Do check train times for the return journey (Guimaraes to Porto), especially at the weekends, as there can be gaps of over 2 hours between departures.
Guimarães train station is to the south of the city, and is a 10-minute walk to the historic centre. On exiting Guimarães station, turn right and walk to the city centre via the Avenida Dom João IV; this is the more scenic route.
Related article: Porto to Guimarães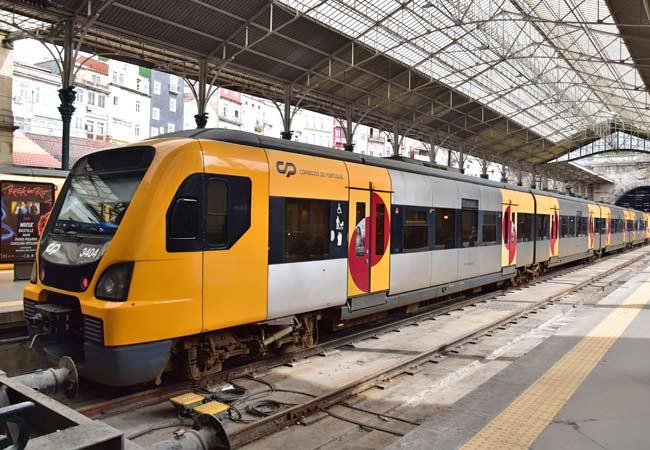 The train to Guimarães waiting in São Bento train station
Why is Guimaraes known as the birthplace of Portugal?
Guimarães is known as the birthplace of Portugal, as it was here that the first king of Portugal (Afonso Henriques) was born in 1109.
Afonso was baptised in the Igreja de São Miguel do Castelo, one of the oldest churches in Portugal. This small chapel stands in front of the castle, and the baptism font can still be found in its original location.
The battle of São Mamede in 1128, which established Portugal as an independent country, was fought just outside of Guimarães. This battle pitted Afonso Henriques against his mother, Teresa of Portugal, and the Kingdom of León.
After Afonso's victory, Guimarães became the capital of the newly established kingdom, but after 20 years the capital was relocated to Coimbra.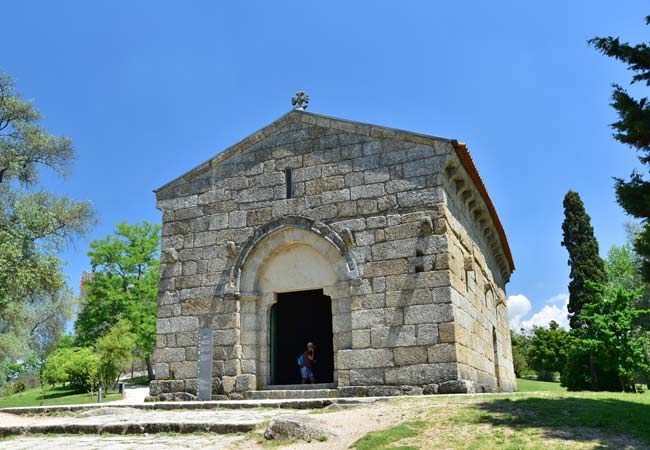 The Igreja de São Miguel do Castelo