You are here: Porto intro > Porto day trips > Guimarães intro > Porto to Guimarães
Porto to Guimarães
Guimarães is a fascinating and historic Portuguese city that makes for a great day trip for those visitors based in Porto. Guimarães is to the northeast of Porto and is connected by a direct train service, with regular departures that make it possible to visit the city as a day trip. This guide will provide details of the Porto to Guimarães train service and includes fares, station information and links to current timetables.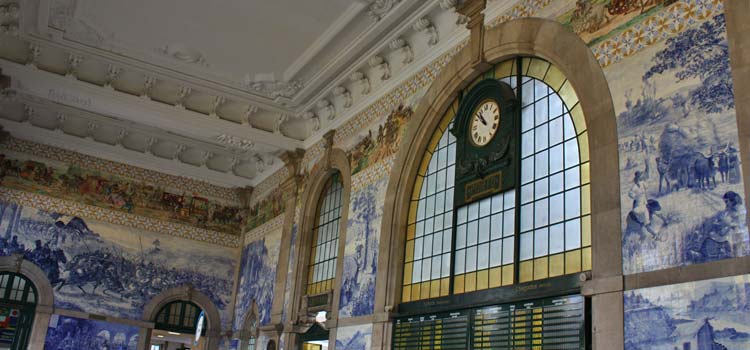 The beautiful azulejos tiles in São Bento Train Station
Porto to Guimarães an Overview
Guimarães is 55km north-east of Porto and can be reached by train or bus; however, the train is the recommended means of travel. The train runs a frequent, comfortable and direct service, which is also much cheaper than the bus. The departure train station in Porto (São Bento), is conveniently located in the city centre and is close to most accommodation used by tourists.
The train service is operated by Combios de Portugal (CP) who are the national train company of Portugal. The Porto-Guimarães railway is part of the urban Porto train network, but this, unfortunately, means that there are many stops, and the journey takes a tedious 1 hour 15 minutes. For your day trip to Guimarães, it is advisable to plan the day around train times, as there can be a wait of up to two hours between departures.
Porto to Guimarães Fares and Tickets
A single ticket from Porto to Guimarães costs €3.20/€1.60 (adult/child). The journey distance falls within "Zone 8" pricing bracket of the Porto urban train lines, and for a detailed fare guide, please see this link to the CP website:
https://www.cp.pt/StaticFiles/Passageiros/1_horarios/precos/pt/oporto-urban-trains-prices.pdf
(link opens new tab – this is a very busy PDF!)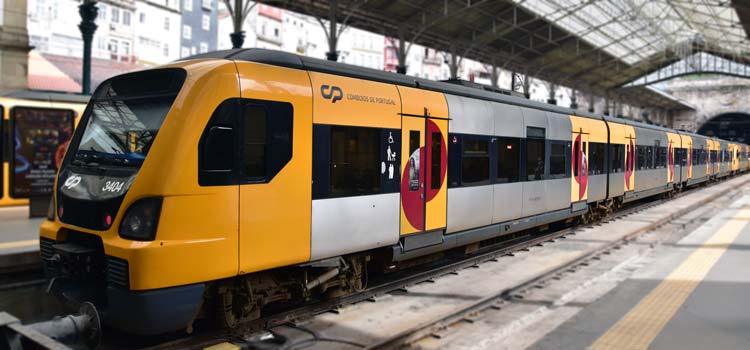 The train to Guimarães
Tickets are purchased from the ticket office or ticket machines. The ticket machines provide instructions in all common European languages and accept cash. The main ticket office in São Bento Train Station can get very busy, especially around rush hour time. Tickets must be purchased (and validated!) before boarding the train; passengers should expect to get their tickets inspected, and fines are given for invalid (or non-validated) tickets.
Train and timetable information
Guimarães is the final station on the railway line, and the journey takes between 1 hour 10 minutes and 1 hour 20 minutes. There are ten daily departures, with six extra services Monday to Friday. The first departure from Porto is at 06:20 and the last return service from Guimarães is at 22:48 (correct summer 2018). For the latest timetable, please see this link:
https://www.cp.pt/StaticFiles/timetables/oporto-guimaraes-urban-trains.pdf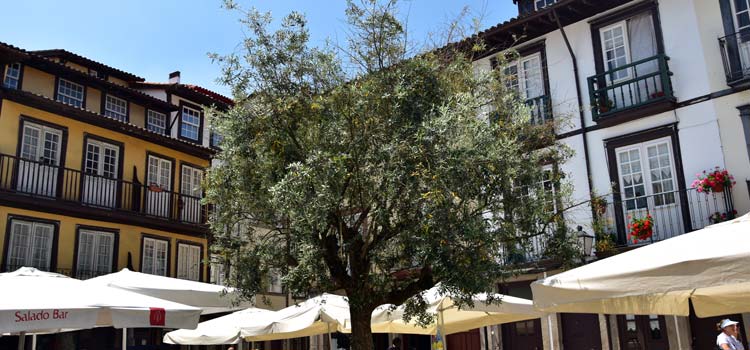 The Praça de Santiago in Guimarães
The trains that operate between Guimarães and Porto are modern, clean and well maintained. The route is also safe to travel even late at night, but it is always advisable to sit near other passengers (who can translate in case of issues). Train travel is also suitable for less mobile passengers as the platforms are at the same height as the carriage doors.
Facilities at São Bento Train Station
Trains to Guimarães all initially depart from Porto's São Bento Train Station (Estação de São Bento), which is situated in central Porto (GPS: 41.14551, -8.61020). This station is conveniently located close to the main tourist areas of Porto and is a short walk away from the Ribeira District. São Bento is served by the D metro line (yellow line), which is the main north-south metro line.
Guimarães Castle
The station is well equipped with standard facilities, including; an ATM, coffee shop, luggage lockers, ticket offices and a small waiting room. Visitors should also leave time to marvel at the elaborate tiling that adorns the station interior.
All trains to Guimarães also stop at Porto's Campanhã Train Station. This is the main intercity train station of Porto, with direct services to Coimbra and Lisbon. The São Bento Station is closer to central Porto than Campanhã, so it is recommended to join the service at São Bento.
Facilities at Guimarães Train Station
Guimarães Train Station is to the south of the town and it is a 10-minute walk to the historic centre. On arrival, tourists should turn right out of the station entrance and cross at the pedestrian crossing then head down Avenida Dom João IV. After 700m this road leads to the pretty Nossa Senhora da Consolação church.