A Suggested Walking Tour of Aveiro
Aveiro is a fantastically unique Portuguese town. Situated inland from the stunning Silver Coast, perched on a peaceful lagoon and historically famed for its salt production; Aveiro can also boast flamboyant architecture, and design that is unlike any other Portuguese city. Tourists should not expect an immaculate old town but this destination is perfect for tourists seeking something different. It is ideally discovered on foot, with a camera to hand.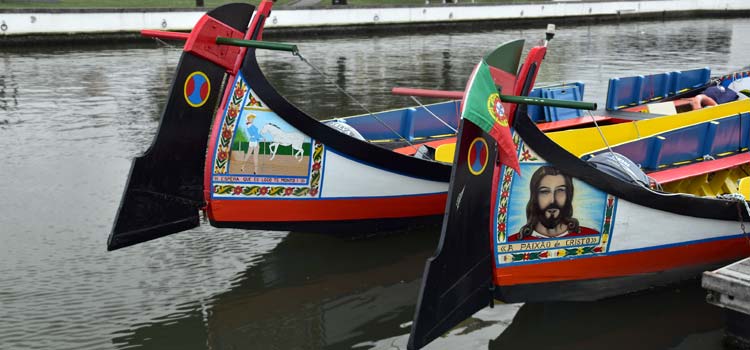 The colourful Moliceiros canal boats
This guide will provide a suggested walking tour of Aveiro, highlighting the main attractions of this picturesque town. The tour starts from either the train or bus station but visitors travelling by car can easily join by skipping the 'Arriving at Aveiro' section.
Arriving at Aveiro
For visitors arriving by train: The old train station is a marvellous place to start a tour of Aveiro. The outside of this iconic building is adorned with blue azulejos tiles that give admirers a portrait of life in 19th Century Aveiro. Keen tourists will note that many of the scenes depict Aveiro's cultural heritage; marine agriculture and salt production. From here, visitors should take the Av. Dr. Lourenço Peixinho heading to the town centre (13 minute walk or 5 minute taxi ride).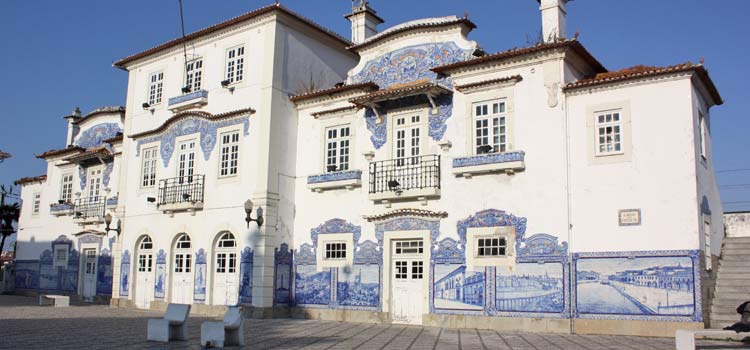 The old train station of Aveiro
For visitors arriving by bus: The Ponte Praça Bus Station in centre of Aveiro and leads directly to the main walking route, excluding the picturesque old train station. For visitors wishing to include this, it is advised to take a short taxi ride at the end of the day to/from the station.
Aveiro tour starting point
Aveiro's Tourist Information Office (Turismo do Centro de Portugal) is located on R. João Mendonça, which makes for an ideal place to start a day's walking tour and visitors should pick up a free map to enable navigation around the main sites detailed in this route.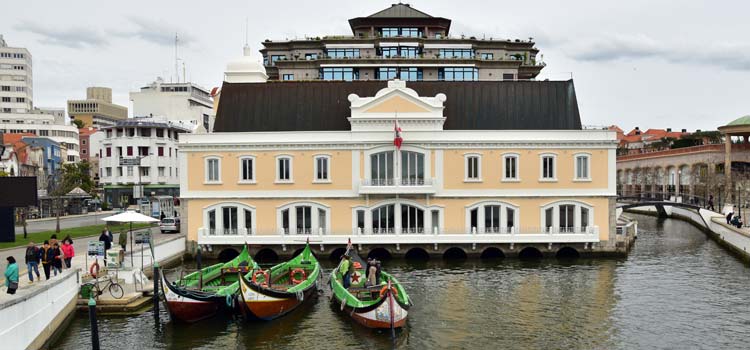 The canals of Aveiro
Exiting the tourist office to the right, the Aveiro City Museum (Museu da Cidade de Aveiro) is literally next door. This museum, housed in a striking Art Nouveau building, is a perfect introduction to the agricultural origins of Aveiro and contains interesting exhibitions that are quick and easy to navigate. Aveiro City museum is open daily from 9:30 - 12:30 and then 14:00 - 18:00 and costs €2 (price includes other municipal town museums)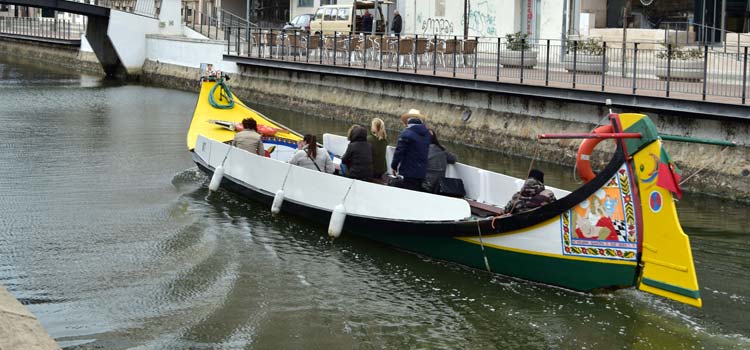 The pretty canals of Aveiro
With this unique insight into old Aveiro, visitors should then take a few minutes to stroll along the Central canal (west) taking in the colourful Moliceiro boats and historical architecture before continuing into tranquil Rossio Gardens (Jardim de Rossio) around the headland, where it is possible to sit and watch the world go by or take a Moliceiro boat trip.
Following the park around the headland visitors should then exit onto Rua João Afonso (heading east) and at the mini roundabout walk straight over to Travessa do Lavadouro. This road will lead to a waterway on the left, where it is possible to walk down to the Circular Pedestrian Bridge, or right to Fish Market Square (Praça do Peixe). This square serves the nightlife of Aveiro, but during the day visitors can find the best restaurants, with everything from traditional Portuguese food to gourmet dishes. It is a perfect point to stop for those wishing to sample some local cuisine for lunch.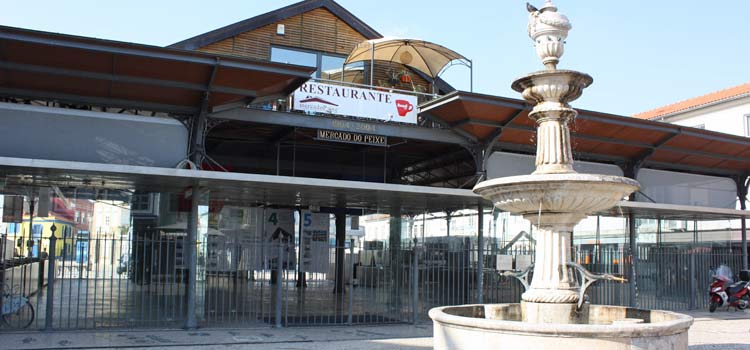 The Praça do Peixe market
After lunch, exit the square to the south east down Rua Trindade de Coelho, which then links to R. João Mendonça and cross over the bridge (this is a roundabout). Take the pedestrian only Rua de Coimbra turning, which is straight ahead. This quaint road is brimming with interesting shops, Art Nouveau architecture and Portuguese handicrafts.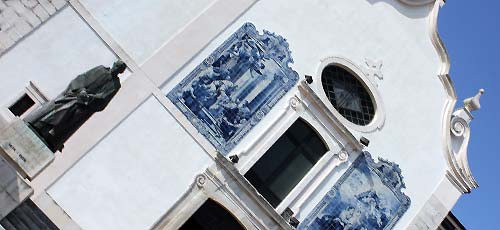 The Nossa Senhora da Apresentação chruch
Follow this road south until it intersects with Av. Santa Joana and turn left. Walking along this road for around 70 metres, visitors will arrive at the Museum of Aveiro. This highly recommended museum is housed in a Convent and retells the compelling story of a princess that defied the king's will to pursue her charitable and religious life. She was considered a saint officially 200 years later, and her beautiful marble and jasper mausoleum is one of the main attractions.
The Museum of Aveiro
Visitors can tour around the museum in two distinct circuits: a monumental one where the original convent and chapel are displayed, and a tour around the new building, where the art and permanent exhibits are shown. The museum is open 10:00 to 18:00 Tuesday to Sunday and entry costs €4 (children under 12 go free).
From here, it is possible to see the magnificent Sé Cathedral of Aveiro, also known as the Church of Saint Dominic, which is situated on left when exiting the museum. Visitors will be charmed by the cathedral's façade and the imposing bell tower. It was built in classical Portuguese baroque with a few Gothic architectural aspects remaining from the original building, founded in the 15th Century.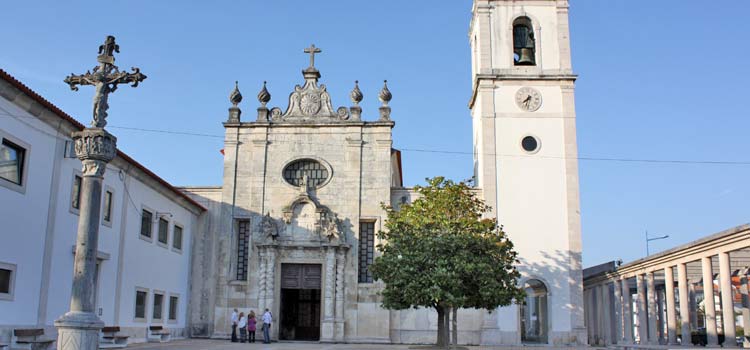 The Se cathedral
Walking north along Rua do Batalhão de Caçadores (Parque de Santa Joana will be on the left side), visitors will reach the Forum Shopping Centre. This architecturally stunning, contemporary shopping centre has won awards with its distinctive green spaces and stone facades which are harmonious with the historic centre. For those, needing a rest break there are a good variety of cafes and chain restaurants. Passing through the shopping centre to the canal side, tourists can walk east along the waterway to Fonte Nova and modern Aveiro. This parkland and Lagoon area is a very peaceful end to the walking tour. The University is also within walking distance for those who want to see more of modern Aveiro's architecture.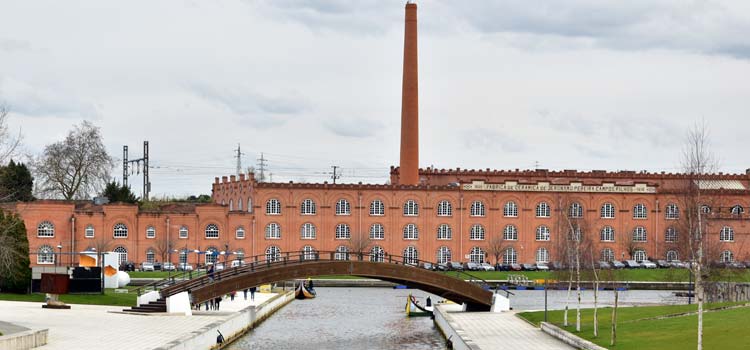 The Fonte Nova Lagoon
After walking around this area, it is highly advisable to get a Moliceiro boat ride to rest weary feet and view more of the Lagoon and waterways. Moliceiro tours start at 10:00 and run until 18:30 (9:30 to 19:00 on weekends) and cost around €8 for a 45 minute boat ride. To avoid congestion boats depart every 30 minutes (15 minutes on weekends).