Beaches in the Aveiro Region
Aveiro is a largely unexplored, unique Portuguese town that is surrounding by an area of outstanding natural beauty. Perched inland on the edge of a lagoon, the nearby stunning Silver Coast beaches are just a short bus ride away from the town centre.
These sandy stretches extend for 5km and are centralised around two main resort towns; Costa Nova and Barra, each with its own-named beach. This guide will provide details about both of the beaches in the Aveiro region, how to get to them and other top beach tips.
Aveiro and the Beaches
Aveiro is not directly located on the coastline and is approximately 7km inland from the beautiful beaches of the region. There are regular bus services to the beaches and these are detailed at the end of this article. Aveiro should not be considered as a resort town due to the distance to the beach, if you wish to spend time close to the sea plan to stay in Costa Nova or Barra.
Costa Nova Beach (Highly Recommended)
These were traditionally used to store fishing tackle but now form an iconic landmark. These houses are neatly situated along a promenade (Avenida José Estevão) where visitors can stroll along, admiring the striking architecture and relax with a coffee or pastry. Active visitors can also take part in a wide range of water sports, including; windsurfing, sailing, rowing and water skiing, on the lagoon and prices are very reasonable. Costa Nova town also boasts a lively morning fish market and a small range of accommodation and restaurant options, for those wishing to stay on longer in this beautiful haven.
The Praia da Barra
Barra Beach is located to the north of Costa Nova and is situated at the mouth of the Vouga River. In contrast to Costa Nova, the Barra shoreline view is dominated by a massive lighthouse (Farol da Barra), which is the tallest in Portugal, yet rather unappealing in its stature. This working lighthouse stands are 62 metres high and its beam can be seen from a colossal 43km away in the Atlantic Ocean.
The beach itself is divided into two sections by a long pier and this, combined with the northern headland, allows the beach to be sheltered from the Atlantic rollers, making it more suitable for those seeking calmer waters to swim in. There are also parasols and sun loungers on the beach in front resort town that cost €10 per day.
Whilst Barra Beach may not have the character or charm of Costa Nova, it does have a much larger expanse of sand, a wide selection of restaurants and accommodation options, which accommodate all budgets. Furthermore, North of Barra there are the Vouga River lagoons, Europe's largest protect coastal marshlands and home to many species of birds. Visitors to this beach are able to take tours of this beautiful, scenic area.
From Aveiro Town Centre to the beaches
By Bus: The beaches are located 10km west of Aveiro and are accessible via a seasonal bus service. This departs from the train station and then stops at a bus stand located on Rossio Square before driving onto Barra and, lastly, Costa Nova. Buses depart almost hourly from 7am with the last bus returning from Costa Nova at 23:25. The Journey takes 35 minutes and a return ticket costs €3.75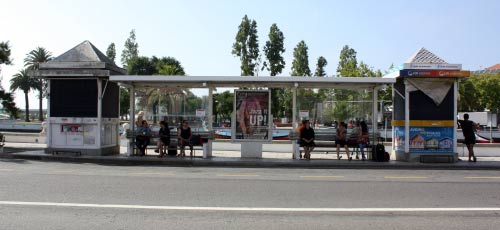 The bus stop in Aveiro for buses to the beach
By taxi: Alternatively, for those short on time, it is possible to get a taxi for €15 (one way).
By Car: For those driving by car, the beaches are accessible by following the A25 highway west from Aveiro, the road ends at a roundabout and it is right (north) for Barra or left (south) for Costa Nova. Both towns has sufficient parking, but it can get difficult to find a prime parking spot during the summer.
Details of the beaches
The coasltine faces in a westerly direction out onto the Atlantic Ocean and the powerful waves make the beaches a perfect destination for surfing and body boarding. However, the water temperature remains cold year round and a wetsuit is recommended for those spending extensive periods in the water. These beaches are extremely popular with both Portuguese and foreign tourists, which mean that central areas can get busy on weekends in peak season. However, the expansive 5km sands reward those willing to walk a short distance with peaceful, spacious sections of the beach.
Both, Costa Nova and Barra Beaches are Blue Flag rated, which mean that the waters are extremely clean and safe, making them ideal for destinations for families. For those looking to dine out after a beach trip, it is recommended to stay at Costa Nova with its exceptional restaurants.